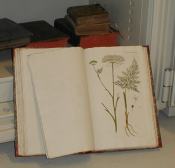 The University Library of Southern Denmark's rara-collection includes, for example, several editions of Flora Danica.
The University Library of Southern Denmark has a large collection of early printed works – see special collections. Some of the works among the early printed material acquired by the library over the years, are very rare and valuable.  These works have been taken out of their collections and are stored in specially secured conditions.
There are more than 1.200 volumes of this kind,  mainly works from the fourteenth to the seventeenth century, but newer works of a special character are also stored with the rara-collection, which, for example, includes several editions of Flora Danica, some of the first printed bibles and Ludvig Holberg's Peder Paars.
Material in the rara-collection is partly registered in its mother collection.  For instance, quite a few of the  books acquired from Fyns Stiftsbibliotek and Ladelund are stored in the rara-collection.
All the works in this collection can be searched for in the library's online catalogue ODIN.
Works in the rara-collection cannot be taken out in the usual way, but are only for use in the Reading Room/ at supervised reading desks.