WHAT IS THE STUDY ABOUT?
An altered gut microbiota is known to increase the risk of developing cirrhosis. At the same time is alcohol in high quantities an agent well-known to drive inflammation in the liver and affecting the composition of the gut microbiota.
Rifaximin is an antibiotic known to influence the gut microbiome. The Rifaximin study at FLASH is a placebo-controlled double-blinded randomized trial. The study aims to identify if the drug can reduce the degree of fibrosis in the liver through a treatment period of one and a half year. Potential participants in the study are individuals with early stages of liver fibrosis and a history or current excessive intake of alcohol.
WHAT IS RIFAXIMIN?
The low rate of absorption from the intestines to the circulation leads Rifaximin to be a very gut-specific antibiotic. The drug is regularly used to restore a normal microbiota and eliminate harmful pathogens in the form of bacterias.
Currently, hepatic encephalopathy and traveller's diarrhea are some of the conditions where Rifaximin is used. Due to the gut-specific actions of Rifaximin on the microbiota in the intestines it serves as a promising therapy in the gut-liver axis.
WHAT COULD BE THE CONSEQUENCES FOR PATIENTS?
If results of the study show that Rifaximin is able to reduce fibrosis, this could be a therapeutic option for patients with excessive alcohol intake at risk of developing end-stage liver disease.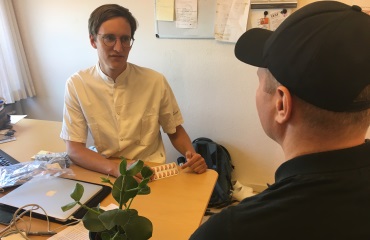 FUNDED BY H2020
The Rifaximin study is part of the GALAXY project.
This project has received funding from the European Union's Horizon 2020 Research and Innovation Programme under Grant Agreement 668031.