Forældet lovgivning gør varmen dyrere
Fjernvarmen kunne blive væsentligt billigere, hvis affaldsforbrændingsværker slap for et gammelt krav om, at de også skal producere el.
Af Birgitte Dalgaard, bird@tek.sdu.dk, 05-04-2007
Landets affaldsforbrændingsværker producerer ikke kun varme. Et gammelt lovkrav tvinger værkerne til også at producere el. Kravet tynger værkernes økonomi og gør i sidste ende varmen dyrere for forbrugerne.
Det viser en analyse, som Alexander Boye Petersen, der studerer til civilingeniør i Energiteknologi på SDU, har lavet i samarbejde med Dansk Fjernvarmes tænketank Grøn Energi.
- Vi har undersøgt 27 kraftvarmeanlæg, og vores beregninger viser, at værkerne kan producere væsentligt billigere varme, hvis de ikke samtidig skal producere el. Jeg har regnet frem til, at for hver MWh varme er der i gennemsnit 50 kroner at spare, hvis værkerne koncentrerer sig om at producere varme. Nogle værker kan spare næsten 100 kroner per MWh, siger Alexander Boye Petersen.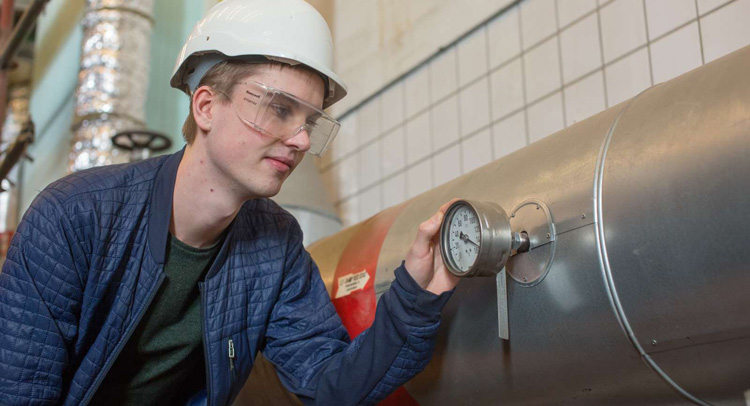 Lad værkerne vælge selv
Alexander var i løbet af studiets 9. semester i virksomhedsforløb hos Grøn Energi. Her hørte han om, at affaldsforbrændingsanlæg er underlagt et kraftvarmekrav. Han valgte at lave beregninger på, hvad kravet havde af økonomisk betydning for affaldsforbrændingsværkerne.
- Lovkravet er fra en helt anden tid. Vi får mere og mere strøm fra vindmøller og andre energikilder, og elpriserne presses ned. Så den el, som kraftværkerne producere er alt for dyr, forklarer Alexander Boye Petersen og fortsætter:
- Ud fra min analyse mener jeg, at politikerne bør sløjfe kravet om, at affaldsforbrændingsværker både skal producere varme og el. Det bør være op til det enkelte værk at vælge, siger Alexander Boye Petersen og forklarer valgfriheden med, at regnskabet faktisk så anderledes ud for to af de 27 kraftvarmeanlæg. På grund af stordriftsfordele var varmeprisen hos de to største anlæg lavest, når de også producerede el.
Tvinges til at købe dyr teknologi
Alexander Boye Petersen forklarer, at kraftvarmekravet tvinger værkerne til at investere i dyre kraftvarmeanlæg i stedet for billigere kedelanlæg, som udelukkende producerer varme. Værkerne tvinges altså til at investere i dyre anlæg, og regningen havner i sidste ende hos forbrugerne.
- Da kraftvarmekravet blev indført, var det fornuftigt set i lyset af, at teknologien bag kraftvarmeanlæg var meget mere effektiv, men i dag er kedelanlæg næsten lige så effektive, pointerer Alexander Boye Petersen.
Alexander Boye Petersen har været begejstret for samarbejdet med Grøn Energi, fordi han tydeligt har set, hvad hans tillærte kompetencer som energiteknologistuderende kan bruges til. Han er nu ved at skrive speciale. Det er også i samarbejde med Grøn Energi, men indenfor et helt andet emne.
- Det er spændende at lave et resultat, som kan være med til at påvirke de politiske beslutningstagere. Det har været fedt at mærke mine kompetencer: generelle viden om el-systemer og matematiske indsigt spille sammen, så jeg kan aflevere en gennemarbejdet rapport, som bliver brugt politisk til at flytte lovgivning, siger Alexander Boye Petersen.
Vil du være med til at løse fremtidens energiudfordringer?
Så er kandidatuddannelsen Civilingeniør i Energiteknologi måske noget for dig.