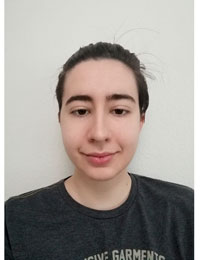 My name is Mihaela Gruia, I came from Romania and I am 20 y.o. I am a 4th semester BEng Electronics student at SDU Sønderborg.
I read about the Electronics programme at SDU on the university website and I chose to study it because electronics was one of my interests in high school and in addition to that I was attracted to the hands on experience that the university offers.
The best part of the study programme and the study environment in Sønderborg
I personally love the hands-on approach when it comes to studying. The combination between theory and practice is one of the main reasons I chose SDU, by working on a relevant practical project every semester, as a student, I feel like I can crystalize almost all the theoretical input from my classes.
When it comes to the study environment, the facilities (library, reading rooms, equipment etc.) offered by the university make a big contribution to the quality of studying; I find the fact that the teachers are ready to help almost all the time, combined with the fact that the classes are made to be small, very helpful.
The Semester projects, the teacher's helpfulness plus the 24/7 facilities (labs, libraries, reading rooms etc.) make this university quite special compared to what I observed in my home country.
The study environment is very international, more that 50% of the students being international; thus, we have people from a lot of different backgrounds, a fact that surprisingly makes us interact more than in a normal study environment. And because curiosity drives us to get to know each other in almost all cases we have cordial relationships with most people we get to know. Getting to know people from different cultures and backgrounds is perpetually helping me experience and gain an insight into new things and ways of thinking, thing that comes in very handy when I work on a projects or homework together with my teammates. Experiencing new foods is always a nice plus to having an international campus.
Sønderborg and connections to the companies in the area
Sønderborg is a very quiet and relaxed city, the residents are very nice and helpful, the majority of dorms are located at a walking distance from the sea, it is very close to Germany and the engineering programmes are very relevant for our future career since it is an industrial city with a lot of companies that need engineers.
The connections with the surrounding companies are facilitated by both the university as well as the companies since they actively seek students from SDU as potential future employers. Through the business lunches that the university organizes, as a student, I was able to discover what the companies desire for a future internship or from a future employer, thing from which I consider that I will benefit in the future.