World-Class Engineering programmes at the University of Southern Denmark
World-Class Engineering programmes at the University of Southern Denmark
Engineering degree programmes of excellence taught in English with affordable tuition fees for non-EU citizens and no tuition fees for EU citizens.
International study environment
The University of Southern Denmark presents a diverse range of English-taught engineering programmes, cultivating a truly international study environment at both our Sønderborg and Odense campuses.
Across our locations, you'll find an extraordinary melting pot of over 50 different nationalities within the student community, and also among the researchers and professors. The rich cultural diversity enhances the vibrancy of our campuses and gives value to your education.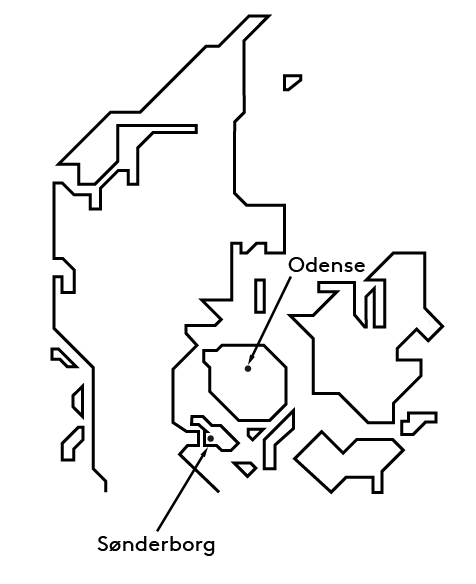 Collaborative teamwork and engaging projects
Experience a unique blend of professionalism and a welcoming, informal student-teacher dynamic. Collaborative teamwork and engaging projects with Danish industry partners are a core part of our curriculum, providing you with practical, real-world experience that greatly elevates your global employability prospects. Many programmes even offer a first job guarantee at a local company after you finish your degree.
By choosing to study in such a multi-cultural atmosphere, you'll gain a deeper understanding of the global engineering landscape, preparing you to thrive in an interconnected world. Whether you opt for Sønderborg or Odense, you'll embark on an educational journey enriched by the international perspectives of your peers, fostering a truly transformative learning experience.
Meet our international students
Meet Alexandra who studies Engineering, Innovation and Business, and who wants to create her own business. Nirdesh studies Mechatronics and has a dream of developing toys. He is motivated by the passion that is all around University of Southern Denmark to work for his dreams. João studies Mechanical Engineering. He wants to make an impact in the world and has always been passionate about space engineering.
International Engineering Programmes
The engineering programmes are located at our international campus in Sønderborg and in Odense.
Life in Denmark
Denmark is a small country with a population of approximately 5,8 million. It is one of the three Scandinavian countries. You might have heard that Danes are some of the happiest people on the planet...
Accommodation and tuition
The University of Southern Denmark - in cooperation with the cities - offers cheap housing options for you. As a non-EU/EEA citizen applying for admission, you should expect to pay a tuition fee.
Application deadlines and how to apply
Not sure when and how to apply?
1 February: Master's degrees in autumn 2024 for non-EU/EEA/Swiss citizens without a Danish residence permit
1 March: Master's degrees in autumn 2024 for Application deadline for EU/EEA/Swiss citizens and applicants with a Danish residence permit.
March 15, at 12 noon: All applicants with a foreign degree when applying for admission to a BSc in engineering or BEng programme. This includes applicants with an IB-degree.
Students in Denmark are expected to be engaged in their learning process. The independent nature of the university studies in Denmark presupposes that students show initiative and take responsibility in the planning of their studies and in keeping to their schedules.
The academic culture is built around a quite informal student-teacher relationship, where you are encouraged to ask questions, express your opinion, and take part in the academic discussion.
Faculty of Engineering University of Southern Denmark
Campusvej 55
Odense M - 5230