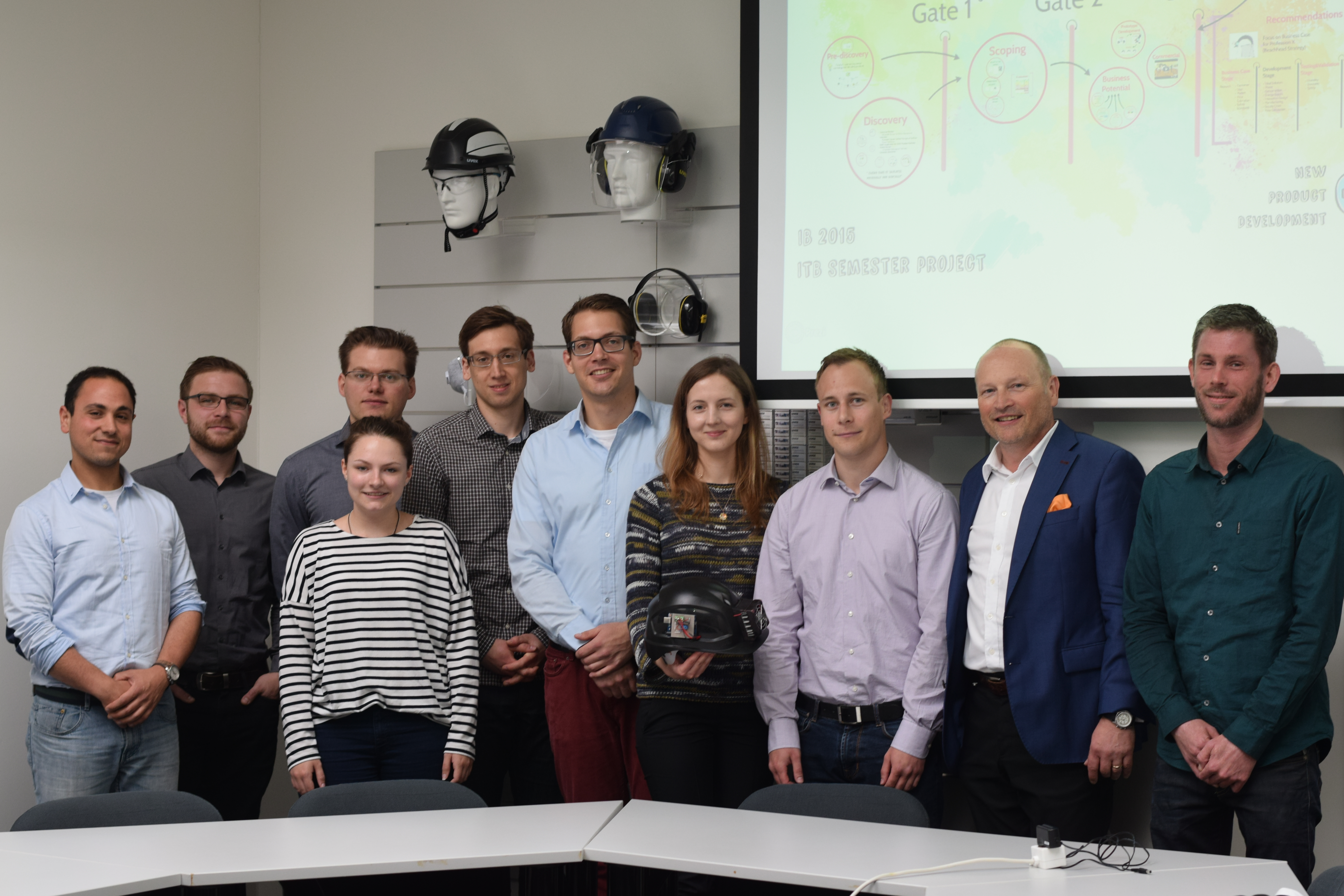 Students won trip to Uvex in Southern Germany and sold their idea to the company
Engineering students from the study program Innovation and Business got a great idea and won a trip to the company Uvex in Southern Germany – and convinced Uvex to proceed working with the concept.
In the autumn of 2015, master students of Innovation and Business were presented with the task of selecting and implementing sensors in a safety product produced by the German company Uvex. Among other things, Uvex manufactures safety equipment for various industries and the products span broadly from safety glasses, shoes, helmets to hearing protection and clothing. Uvex is market leader within design and state-of-the-art material selection but was with the student project looking to explore the possibilities of making their products more intelligent and thus create new business areas.
Three groups of students carried out idea generation workshops, made technology choices, estimated market potential and in the end developed an early prototype. Uvex participated in the process in the students' milestone presentations and gave feedback. In May, the students presented their final solution for Uvex.

Cooling Helmet won
The winner was the group with the product Cooling Helmet consisting of students Niklas Franke, Sanita Armane, Denizhan Cay and Sanjeet Kumar Dwivedi. The idea for the helmet arose when the group during their research learned that working efficiency drops substantially when working in high temperatures. For that reason, the students chose to work on a solution to be implemented in safety helmets, which is mandatory workwear at many industrial workplaces. The cooling elements are activated when the head temperature reaches a certain level.

The prize was a trip to the Uvex head office in Fürth where the students, besides getting a tour of the company, presented their concept to the management, which declared they will proceed working with the idea. As an extra gratuity, Uvex awarded the students each €200 for a job well done.

For further information about Uvex safety group, visit http://www.uvex-safety.com/en/


Photo: The three students with Uvex employees – from left student Denizhan Cay, Johannes Kourtides (Uvex), Wolf Wagner (Uvex), Marylin Götz (Uvex), Simon Jaschke (Uvex), student Niklas Franke, student Sanita Armane, Jens Metzger (Uvex), Manfred Schuster (Uvex) og Tobias Kreitschmann (Uvex). Student Sanjeet Kumar Dwivedi was prevented from participating in the visit.