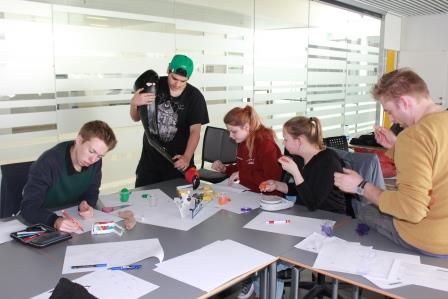 Young engineers played with women's legs
Faaborg High School visited the Mads Clausen Institute recently as part of a camp. The high school students were given a project including tests with women's legs
A second year science class from Faaborg High School visited the Mads Clausen Institute the other day as part of a camp at the University of Southern Denmark in Sønderborg and Universe school camp and science park. At MCI, staff and students had prepared an academic project for the students, which was related to Patient@home – the largest research and innovation project in welfare technology in Denmark.
At MCI, researcher Fei Yu works with a project within Patient@home, which aims at developing a mechatronic monitoring system for patients, who experience diabetes related foot pains. The system must be able to register when the patient's lower leg or feet start to swell and send data about the swelling to the doctor.
Test with women's legs
Fei made the high school students create various forms of swelling simulations on women's mannequin legs. There were many different materials available for the students, so before they started, they had to go through an idea generation process. This enabled the students to pick the best ways of simulating the swelling. With great ingenuity and drive, the students made several very realistic simulations of foot swelling. They ended the day by measuring the swellings and inserting the data in a spread sheet. The students' work will be used by Fei Yu in the continued process of developing the monitoring system.
Faaborg High School's camp in Southern Jutland lasted two days and, besides the project at MCI, also entailed a company visit at Danfoss, overnight stay at the school camp at Universe and a trip to Universe science park. The camp was completed with support by the Fabrikant Mads Clausen Foundation – read more about the possibility to obtain support to camps at SDU and Universe.
See more pictures of the project work of the class on the Facebook page of the Mechatronic study program
here
.