Husband and wife want to fight Chagas disease
Engineer Mads Høi Rasmussen and doctor Signe Høi Rasmussen, are travelling to Bolivia to learn more about the mysterious and deadly Chagas disease, also known as American trypanosomiasis.
1 in 3 children in Bolivia are infected with the deadly Chagas disease. The disease is hard to detect, because it only affects the patient shortly, before it hibernates for 20-30 years. If it returns, it results in a painful death.
- It would be amazing if we could help the pharmaceutical industry to someday find a cure for this terrible disease, Mads Høi Rasmussen says.
His day job is teaching engineering students and inventing robotic tools at SDU Mechanical Engineering at the University of Southern Denmark. But in January, he will be leaving for a 10-month trip to Bolivia with his wife, doctor and Visiting Researcher Signe Høi Rasmussen from Epidemiology, Biostatistics and Biodemography, SDU, and two kids.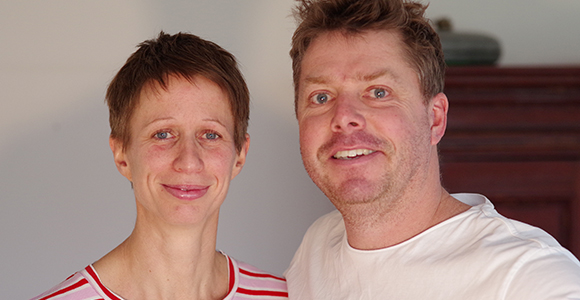 Only the poor are infected
- The medical treatment of Chagas disease today consists of two drugs developed in the late 60s. The treatment in the chronic phase has limited effect and many side-effects.
-The problem is that only the poor are infected with the disease. If Chagas disease infected the rich people, there might be better treatment, Signe Høi Rasmussen says. Mads Høi Rasmussen adds:
- We visited Bolivia 15 years ago and fell for the country. Now we are returning with a wish to put focus on Chagas disease through voluntary research. It is heartbreaking that there is no cure for a disease that is so common and so painful.
Destroying heart, brain and intestines
The couple are bringing a portable ultrasound scanner to scan hearts, blood collection tubes and a blood centrifuge. The equipment is to help them learn more about the mysterious Chagas disease that has infected 30-40 % of children in Bolivia, according to the WHO. The numbers are even higher for adults.
Just like ticks can transmit Lyme disease, Chagas disease is caused by a parasite transmitted from so-called "kissing bugs". The disease typically hibernates for 20-30 years, before it breaks out and slowly destroys the patient's heart, brain and intestines. Many patients have trouble breathing and walking and eventually die from heart failure.
- There is almost no research on Chagas disease, so we actually don't know a lot about it. We want to collect blood tests and heart scans to understand the disease better, because we will never find a cure, if we don't know the symptoms, Mads Høi Rasmussen points out.
"

The problem is that only the poor are infected with the disease. If Chagas disease infected the rich people, there might be better treatment
Mads and Signe Høi Rasmussen have both taken leaves of absence from their jobs and will be going to the most remote places in Bolivia unpaid. To villages only reachable by foot, where the houses are made from clay and the kissing bugs have optimal conditions for biting humans.
- I am not there to do rocket science, but my engineering skills are useful in providing electricity for the ultrasound scanner, or if the car breaks down in the middle of nowhere. Sure, I might be asked to do blood samples too, but my role is to be the project manager, Mads Høi Rasmussen says.
And the creative brain of the engineer is already at work, trying to solve the special challenges that arise when you want to do voluntary research in Bolivia. Among other things, Mads Høi Rasmussen is in the process of setting up an organization, because it helps to be an organization when you want to communicate with the local authorities.
Trust through food
There are also plans to hire cooks, so the researchers can win the Bolivians' trust through food and make them take part in the project.
- In the remote areas, you see the medicine man when you are sick. They rarely know about modern medical treatment. We are dependent on the trust of the people in the village to get blood samples and heart scans, so they need to know that we are here to help, Mads Høi Rasmussen explains.
Facts
Chagas disease is a tropical parasitic disease in Latin America that is primarily transmitted from kissing bugs.
Infection usually occurs in childhood.
The patient is rarely diagnosed in the acute phase, as the symptoms are mild and unspecific.
After the acute phase, the disease enters the symptom-free chronic phase, which can last 20-3o years or even the rest the patient's life.
Around 25 % of patients will experience a chronic outbreak with infection of the heart or intestines.
The disease is difficult to diagnose, prevent and treat.
Source: Sundhed.dk