Do you want to stay in Denmark after your studies end?
Are you looking to increase your employability, meet other internationals with the same goals and foster connections with Danish companies?
Do you want to know more about job-hunting in Denmark and the do's and don'ts within the Danish labor market?
"In Denmark the employees focus more on your personality and soft skills and who you are as a person during recruitment. And sometimes that is much more important for them than your technical background or grades !"
- Milad Jami, Novo Nordisk.
The programme offers a wide array of courses about Danish culture and work market.
Furthermore, you get to train your team work skills, problem solving abilities and how to market yourself to a potential employer.
You get to be a part of a group of highly motivated, skilled and talented internationals, all from diverse cultures and educational backgrounds, who are as eager to connect and dive into Danish work culture as you are.
Listen to a former participate and read student testimonails.
SDU collaborates with the public employment service for highly skilled forreingers work in denmark the national retaining organisation Copenhagen Capacity and the regional retaining organization Work-live-stay to ensure career possibilities for international students in Denmark.
SDU Career in Denmark offers, in collaboration with Copenhagen Capacity and Work-Live-Stay, courses, events and handheld activities with companies for you as an international full-degree students to support your way into the Danish labor market.
You can apply for the SDU Career in Denmark if:
You are enrolled at SDU
Studying a full-degree master
Motivated to stay in Denmark after your studies
You will get from SDU Career in Denmark:
Online material about working and living in Denmark
Courses about CV, networking and Danish culture
Events to meet companies
Network with Danish employees
Matchmaking activities with Danish companies
Choose between two sub-programmes within SDU Career in Denmark: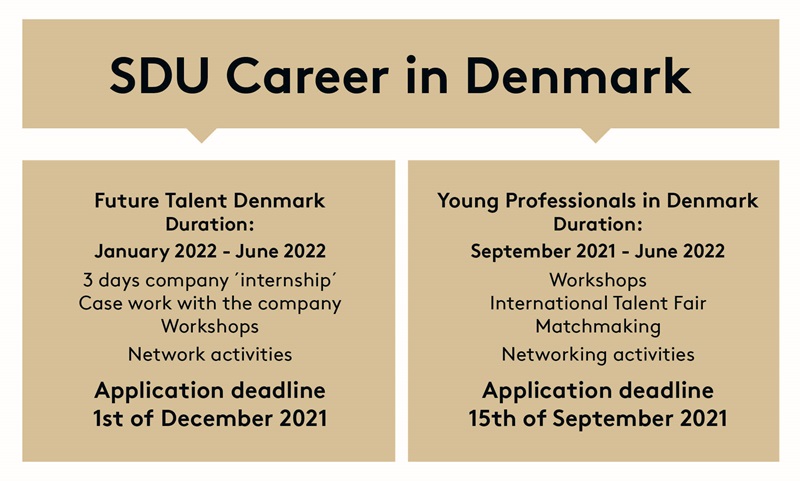 Students from the campus cities will have their transportation costs reimbursed for the activities and courses taking place in Odense.
Read more about the two programmes:
Future Talent Denmark in collaboration with WorkLiveStay:
A half-year programme (one semester) (either from September to January or from February to July) where you do a small casework with a company to get insight, network and knowledge about the Danish labor market. The company will be matched with your competencies and wishes.
Young Professionals in Denmark in collaboration with Copenhagen Capacity:
A national one-year program (two semester)(from September to June) with courses, matchmaking activities and events helping you in starting your career in Denmark. This programme enables you to network with companies around Denmark and with international students at both SDU and other Danish Universities.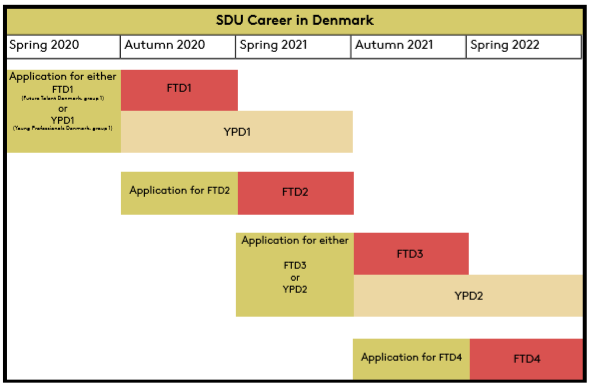 How to apply
Apply to SDU Career in Denmark and then prioritize the two programmes with a motivation for which one you would like to participate in. All candidates will be chosen based on a short motivational video uploaded in your application process.
You can apply for a spot in the programme Career in Denmark. Deadline 1st of December, 2021.
Contact us
Do you have questions?
Please contact coordinator Helene Fast Seefeldt on email or phone +45 6550 2029.