SDU creates approximately 2,500 new jobs
In a time of crisis and a shortage of jobs for highly educated people, the University of Southern Denmark has managed to find and broker 1,147 new student jobs on Funen, in west Zealand and in Jutland. At the same time, in just one year, the University has helped more than 1,000 academics to find work within the same region.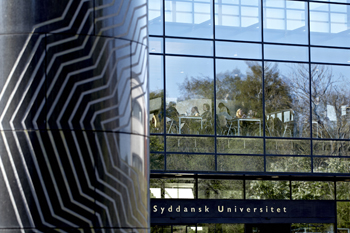 Students who were having difficulty finding work relevant to their studies. And highly educated people who were forced to go to Copenhagen or Aarhus in search of work.
This has long been the picture in the regions of southern Denmark and western Jutland. But the University of Southern Denmark is now fighting back against that development.
The University not only produces highly educated graduates – it puts a great deal of effort into helping them find work, too.
In 2013, the University found and brokered 1,147 new student jobs in the vicinity of the University. And that is an increase of 58 per cent compared to the previous year.
At the same time, the University also brokered new jobs for 1,292 master's graduates, primarily with companies on Funen and in southeast Jutland, which is an increase of 22 per cent.
More company visits
The many student jobs and academic positions are typically in small and medium-sized enterprises, covering virtually all sectors, from law firms and communications agencies to manufacturing companies.
Altogether, 2,439 new jobs have been found and brokered via the University's job bank, social media, information screens as well as enhanced careers guidance for students and, last but not least, many more visits to businesses in the region.
"Our efforts have been wide-ranging. For example, we stepped up our programme of company visits, and we have been out there talking to companies about their projects and needs, making them aware of how a student assistant or an academic can add value.
Many firms in the region do not have experience of academics and may be unsure about how they can actually benefit from them. That is where we act as a bridge builder," explains Rikke Berg, Head of SDU Business.
SDU Business was set up a year ago, in part with the aim of drumming up more jobs for the University's students and master's graduates.
"The new figures show we are on the right track. At the same time, we know that students who have had a relevant student job have easier access to the labour market once they have graduated," Rikke Berg explains.
One main access point for the business community
Another reason for this success is that companies who approach the University with job vacancies have had an easier time. 
"We have made things much easier for the business community to access us and our job bank. Whereas the University used to have different access points for companies who needed labour, now there is only one main port of call. This makes it easier for the business community to get help from us," Rikke Berg explains.