Welcome to a two-day course in advanced liver ultrasonography on the 1st and 2nd of February. Learn how to use ultrasound to assess patients for cirrhosis and portal hypertension, as well as control TIPS and liver transplantation. The program will include short teaching sessions followed by hands-on training on patients with liver disease, in small teams and under the supervision of four instructors. The program will also include lectures from two European experts in portal hypertension, ultrasound and non-invasive methods: Annalisa Berzigotti and Jaime Bosch.
The course is aimed for doctors within the gastroenterological and radiological fields with a special interest in liver ultrasound. The course is organized as a collaboration between OUH Masterclasses and the Danish Society for Gastroenterology and Hepatology. Registration is open to international participants.
Price for participation is:
3500 DKK for Specialist Registrar and 2000 DKK for all others.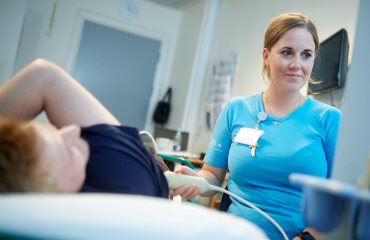 Program:
DAY 1

10:30-11:00

Registration, coffee and welcome

Maja Thiele

11:00-15:30

11:00-11:45

11:45-12:30

Diagnostic work up of a patient suspected of cirrhosis

Characteristics of cirrhosis and portal hypertension using B-mode and Doppler ultrasound

Hands-on training on patients with cirrhosis of different disease severity and etiology

Peter Holland-Fischer

Instructors

12:30-13:30

Lunch

13:30-14:00

14:00-15:30

Ultrasound elastography: Techniques, clinical applications, interpretation

Hands-on training on patients and phantom

Maja Thiele

Instructors

15:30-16:00

Coffee break

16:00-17:45

16:00-16:45

16:45-17:45

Vascular liver disease, TIPS and liver transplants

Vascular diseases: Budd-Chiari and portal vein thrombosis; TIPS and LTX assessment using Doppler ultrasound

Hands-on training on patients and phantom

Prof. Annalisa Berzigotti, Inselspital Bern, Schweiz.

Instructors

17:45-18:00

Evaluation day 1

19:00-

Joint dinner

Grand Hotel Odense
2. februar 2019
DAY 2

8:30

Coffee and welcome

9:00-11:15

9:00-9:30

9:30-10:00

Liver disease – invasive methods

Liver vein catherisation: procedure, interpretation, clinical implementations

Liver biopsy: procedure, complications, quality, interpretation

Hon. prof. Jaime Bosch, Inselspital, Bern & Barcelona Liver Clinic

Peter Thielsen

10:00-10:15

Coffee break

10:15-11:15

11:15-12:00

Hands-on training on patients

Multiple-choice test

Instructors

12:00-12:15

Evaluation day 2

12:15-12:30

Sandwich to go