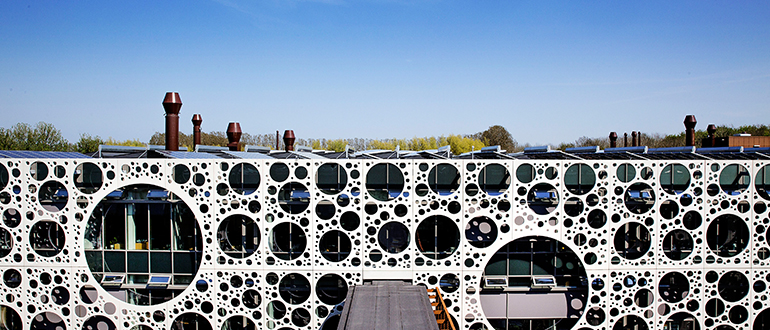 Ny institutleder fra den globale opvarmnings brændpunkt
Efter seks år midt i den globale opvarmnings virkelighed i Abu Dhabi tiltræder professor Jens Ejbye Schmidt som institutleder på Institut for Kemi-, Bio- og Miljøteknologi.
Professor Jens Ejbye Schmidt er havnet det helt rigtige sted, når han skifter livet midt i den globale opvarmning i Abu Dhabi ud med en fremtid som institutleder på Institut for Kemi-, Bio- og Miljøteknologi på Syddansk Universitet. Instituttet forsker på højtryk for at finde løsninger på de store klimaudfordringer.
-Jeg plejer at sige, at jeg her i Abu Dhabi lever i fremtiden. I Danmark taler vi om den globale opvarmning som noget, der sker ude i fremtiden. Her lever vi midt i den, siger Jens Ejbye Schmidt.

I fem år har han været direktør for iEnergy og professor på Department of Chemical and Environmental Engineering på Masdar Institute i de Forenede Arabiske Emiraters hovedstad, Abu Dhabi. Men til oktober skifter han det pulserende ørkenliv ud med Odense.
Med i bagagen har han en stor rummelighed for folks forskelligheder, og så har han lært at fokusere på bæredygtighed i sin forskning. I et land, hvor efterårstemperaturen er 40 grader, drikkevand er afsaltet havvand, og hvor hovedparten af fødevarerne er importeret, er bæredygtighed blevet et vigtigt forskningsmæssigt udgangspunkt.
-Hvis jeg skulle bruge drikkevand til en teknologi i Danmark, ville ingen rynke på næsen. Her er det umuligt. Vand er en knap og meget dyr resurse. Det samme gør sig gældende med marker. I Danmark er vi så privilegerede, at vi også dyrker energiafgrøder, her er det nødvendigt, at alt hvad der dyrkes, bliver spist, forklarer Jens Ejbye Schmidt.
I det hele taget er det vigtigt for Jens Ejbye Schmidt at lytte til virkeligheden omkring ham for at hjælpe med at finde løsninger på presserende problemer.
-Det er vigtigt, at vi på instituttet ikke kun publicerer artikler og håber, at nogle griber dem. Men at vi aktivt er i dialog med det omkringliggende samfund og hjælper virksomheder med at udvikle nye teknologier.