Droner holder styr på græskarrene
Droner hjælper Nordeuropas største græskaravler med at tælle græskarrene. Forsker har udviklet et computerprogram, så landmanden ved, hvor mange græskar han kan sælge til Halloween.
Af Birgitte Dalgaard, bird@tek.sdu.dk, 18-10-2017
Græskarrene ligger som et tæppe af orange bolde over marken. Dronen flyver over det orange hav ved Gyldensteen Gods på Nordfyn og tager oversigtsbilleder.
Tidligere vidste godsejeren ikke, hvor mange græskar der lå på marken, men takket være hjælp fra droner og computerberegninger har han i år et ganske godt overblik over sine flere hundrede tusinde græskar.
-Det er en kæmpe hjælp for os. Vi kan sælge flere græskar, når vi ved, hvor mange græskar vi har at sælge inden Halloween, siger godsejer Frants Bernstorff-Gyldensteen. Præcis hvor mange græskar, han sælger, er en forretningshemmelighed.
Adjunkt Henrik Skov Midtiby fra SDU Dronecenter har sendt godsejeren et billede over hans mange hektar land med græskar. Billedet er inddelt i kvadrater, og i hvert kvadrat står antallet af græskar.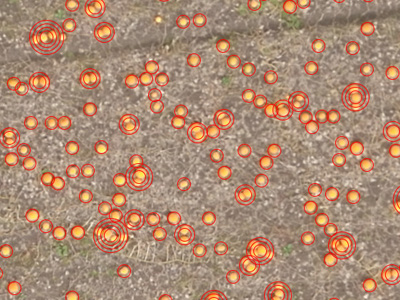 - Det tager computeren 10 minutter at tælle 100.000 græskar. Jeg beder computeren om at finde orange klatter på billedet. Dernæst ser jeg på omkredsen af de orange klatter. Hvis omkredsen er mere end 47 pixels, svarende til 110 cm, antager jeg, at der er to græskar i pletten, forklarer Henrik Skov Midtiby.
Bad forskere om hjælp
Frants Bernstorff-Gyldensteen tog kontakt til SDU med håb om at få forskernes hjælp til at tælle sine græskar. Han oplevede, at der hvert år var mange græskar, som gik til spilde.
Problemet er, at Frants Bernstorff-Gyldensteen forpligter sig til at levere et antal græskar, når han indgår kontrakt med en engrosvirksomhed. For ikke at skuffe køber er han nødt til at forpligte sig på et lavt antal, som han med sikkerhed kan levere. Hvert år stod han derfor tilbage med mange græskar, som i stedet for at pryde fortrappen ved Halloween endte sine dage under ploven.
- Jeg ved efterhånden rigtig meget om græskar, griner Henrik Skov Midtiby. Blandt andet har han fundet ud af, at græskarrene først kan tælles, når plantens blade er visnet. Ellers kan computeren ikke genkende de orange klatter.
-Vi har nu en fejlprocent på 1-1,5. Det ved jeg, fordi jeg inden for et afgrænset område har jeg talt efter og sammenlignet med computerens resultat. Nu er udfordringen, hvor tidligt vi kan tælle, for landmanden vil gerne have informationen så tidligt på sæsonen som muligt, siger Henrik Midtiby.
Opgave løst
Frants Bernstorff-Gyldensteen drømmer om at have en drone, hvor han blot skal trykke på en knap, så flyver den ud og tager billeder. Billederne kan han hurtigt overføre til computeren, hvor et program hiver den nødvendige information ud.
-Den opgave, som jeg meget gerne ville have forskernes hjælp til, er løst. Jeg ved, hvor mange græskar jeg har at sælge. Nu mangler vi bare at gøre det til en tilgængelig løsning. Vi kan jo ikke have en forsker til at analysere informationerne hver gang, siger Frants Bernstorff-Gyldensteen.
Henrik Skov Midtiby drømmer også om at udvikle et computerprogram, som er let at tilgå og som ikke bare kan tælle græskar, men også meget andet som kål eller grantræer.
-Det handler om at hive værdifuld information ud af billeder. Fortolke informationerne så landmanden kan bruge dem til at planlægge efter. Jeg går i øjeblikket og spekulerer på, hvordan jeg skal håndtere rettighederne, når vi har færdigudviklet softwaren, siger Henrik Skov Midtiby.
Energi Fyns Udviklingsfond støtter projektet med 140.000 kroner.
Mød forskeren
Droneforsker Henrik Midtiby er adjunkt på Mærsk Mc-Kinney Møller Instituttet