The Faculty's new Dean: I am going to push you to the limit!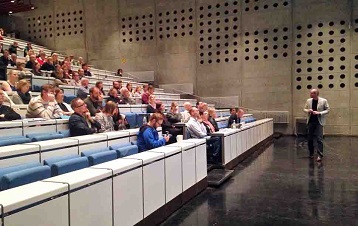 The new Dean of the Faculty of Science, Martin Zachariasen, has high expectations for the Faculty's academic and administrative staff, he stated at a presentation of himself and his visions for the faculty on 19 May. 
About 200 of the Faculty's app. 440 employees attended the presentation.
"You are all professionals, and that is what I expect from you. So I am going to push you to the limit – and you will enjoy it!" he told his staff and then presented his view on his role as Dean:
My job is to help you perform your best
"I am the leader of all you professionals. My role is to have an overview so that I can help you perform your best.  I don't expect you all to become absolute world-class scientists – but you have to find a meaningful and important role for yourself here. There are many different paths to follow. A scientist without an absolute world-class research portfolio – I am one of them myself – can follow another path. It could be teaching, educational development, outreach, industrial cooperation or management."
Martin Zachariasen explained that, in his view, a university can be compared to a symphony orchestra:  Each member is a talented soloist with his or her own agenda and goals - but if the individual talents do not work together there is no orchestra and no music.
For those who are or aim to become a top scientist, the Dean had this message:
"Some of you are stars – and you will get credit. But don't forget that there is a team behind you. You are soloists, but you are also part of this university."
Concerns about motivation in science
At the meeting, professors Jesper Wengel and Peter Roepstorff expressed their concern that the Dean did not present his thoughts about establishing and maintaining a work/research environment that motivates the pursuit of ideas and good science rather than time-consuming administrative duties.
Other attendants had questions and/or concerns about subjects such as democratic university governance, English-speaking administrative staff and the recruitment of international students.
This article will be followed up by an interview with the Dean.