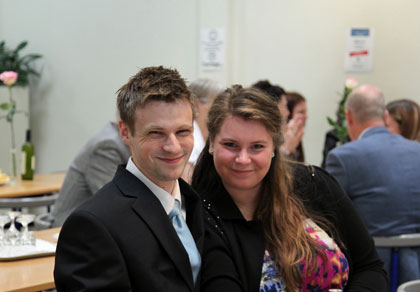 Graduation Celebration: Job-life Ahead Tempts
84 newly qualified engineers and bachelors of engineering were given diplomas at the graduation ceremony at the Faculty of Engineering on 28 June, 2014.
Flashes from cameras and chatting blended with laughter and baby crying from (the prospective) next generation of engineering students as this summer's newly qualified engineers were at the centre of attention at TEK. Graduates and guests celebrated the end of years of studying, hard work, solidarity, stress and funny moments.
"Engineers are explorers equipped with competent skills and curiosity. You discover original opportunities and place them on the technological map of the world," said Director of Studies Henning Andersen. He continued:
"We need the development you engineers contribute. A new study from The Economic Council of the Labour Movement demonstrates that when a company hires 100 engineers, 1300 other jobs follow in the aftermath. You generate growth!"
More jobs on the market
Henning Andersen pointed out that job opportunities look brighter:
"Yesterday, I read the engineering labour market opens up new job opportunities, and it is generally easier for our engineers to get jobs. This is good news, though I know, you will – as graduates – have to fight hard for your first jobs".
One of the lucky graduates who is looking forward to starting his new job after the summer holidays is MSc in Chemistry Bo Kjærsgaard (picture).
"I have just been employed by Novo Nordisk where I will be responsible for cleaning the fermenter which is a reactor in which you can grow organisms," says Bo Kjærsgaard. He dreams of a career as a specialist at Novo Nordisk.
MSc in Product Development and Innovation, Gulshan Din is well under way with the job search: "I am searching quite broadly and would like to work with performance management in a quality department. I wrote my thesis on this particular topic for Arla and think it is very exciting," says Gulshan Din who has already been to two interviews.
Graduation speech with pep talk
Jakob Rohbock Kronberg who was in charge of the graduation speech focused on the exciting future with lots of learning and opportunities lying ahead.
"No worries. We will get a job. I myself was very happy when I came home after my last examination and saw that entrepreneur and founder of Jubii Martin Thorborg had written on Facebook: "Become an engineer, we need you!"
See more pictures on Facebook

Also read more about the Faculty of Engineering's alumni networkING.
For more information contact
Gitte Klausen at gik@tek.sdu.dk / phone 6550 7303