'SDU Maps' campus map and wayfinder - Campusvej
SDU Maps is our digital campus map that lets you search for classrooms, labs and other facilities. A wayfinding feature leads you directly to the place. Use the search field at the top left.
Please note that the map is not properly supported if you're using the old browser application Internet Explorer!
The map can be accessed at: maps.sdu.dk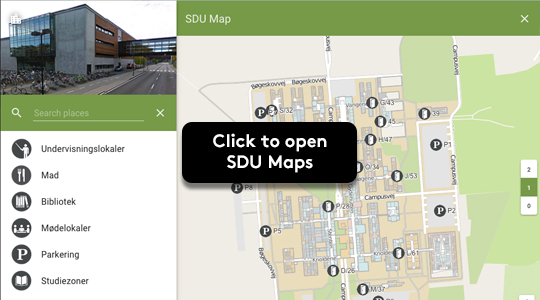 SDU Maps is based directly on building plans from the university's Technical Services department. Initially, the map may be missing some details or show incorrect information. Therefore, we kindly ask our colleagues to please report useful information to the staff at: maps@sdu.dk
This map is also available as an app for IOS and Android smartphones. - Search the App Store or Google Play for 'SDU Maps' to install the free app.