Annika Fischer
Master Thesis – Energy Technology - 2018
The purpose of this study is to examine and compare different biogas upgrading technologies and to provide a biogas configuration model which can serve as a decision tool for future upgrading systems.
In this context a data sampling has been made to ensure trustworthy results for in total nine biogas upgrading systems. Through a simple design process, the model simulates an individual designed biogas upgrading system. The excel model will than provide knowledge about system economics, energy cost and energy flows. The model includes four traditional upgrading systems- amine scrubber, PSA, membrane and water scrubber, and three hydrogen assisted biogas upgrading (HABU) methods– the chemical catalyst, the in situ biological biogas upgrading and the ex situ biological biogas upgrading. Furthermore, a combined solution has been included, using a biotrickling filter and an amine scrubber.
The overall goal has been a comparative analysis of the biogas upgrading methods based on economic aspects and energy production.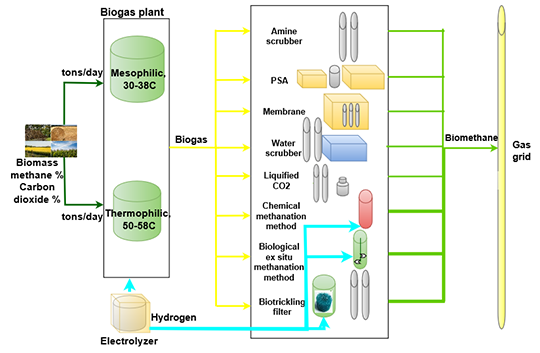 Click on the Flow Diagram to see a large version