Programme structure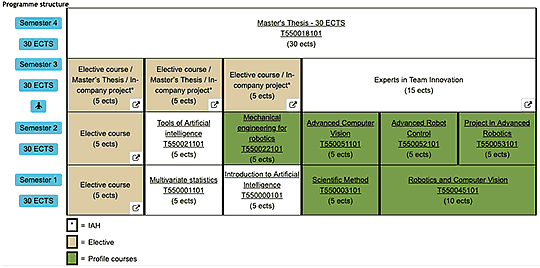 Click the overview to see a larger version.
The Advanced Robotics Technology specialization has a constituent part e.g. scientific methodology, fundamental artificial intelligence, image processing and robot system design.
Furthermore the programme relates to four different research areas, which you can read more about below.

Research area: Robotics
Kinematics
Robot system and automation engineering
Motion and task planning
Mathematical modelling of industrial systems
Computer simulation and animation
Research area: Artificial Intelligence
Classic artificial intelligence
"Behaviour-based" artificial intelligence
Neural networks
Generic algorithms
Adaptive robots
Bio-inspired robots
Research area: Embedded systems
Programmable electronics
Hardware/software co-design
Hardware-near programming
Data communication
Research area: Computer vision
Image processing
Object recognition
Real-time tracing of dynamic objects
3D Kalman filtering
Robot assembly vision
Read more about curriculum and subjects.