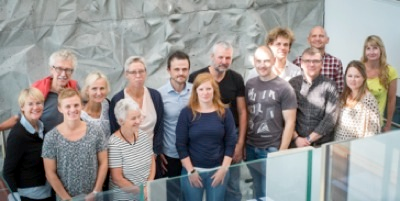 Backrow from the left: Stefan Lohmander, Birgit Juul-Kristensen, Inge Ris Hansen, Søren Thorgaard Skou, Carsten Juhl, Simon Tornbjerg Christensen, Jonas Bloch Thorlund og Camilla Marie Larsen
Frontrow from the left: Ewa M. Roos, Henrik Eshøj, Anne Marie Rosager, Louise Sandal, Kim Gordon Ingwersen, Hans Lund, Karen Brage.
Not in picture: Kristoffer Hare, Brian Clausen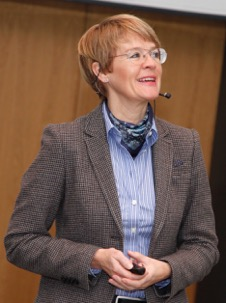 Researchleader, professor
Welcome to FoF
FoF is a multidisciplinary research unit employing senior researchers and PhD-students with different professional backgrounds such as physiotherapy, medicine and sports science. We use our various skills, experiences and abilities to collaborate with clinicians to answer clinical research questions with relevance for patients with muscle and joint pain and problems.
Most of our research compare and evaluate different treatments across disciplines and are proceeded by a systematic review and analysis of the litterature. We are also investigating mechanisms within exercise as a treatment for pain and disability in patients with pain and problems from muscles and joints.
History
The Research Unit for Musculoskeletal Function and Physiotherapy (FoF) is an independent research unit at the Department of Sports Science and Clinical Biomechancs and was founded January 1st 2010. FoF is a continuation of the Research Initiative for Physiotherapy (FIF), which was established May 1st 2007 on the basis of a collaboration started in 2006 between The Danish Physiotherapy Association and The Faculty of Health, University of Southern Denmark.