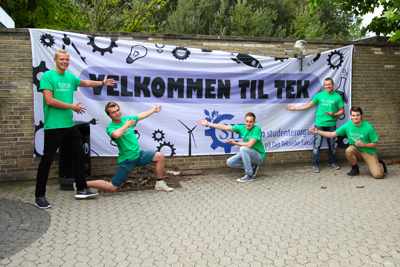 TEK Welcomes 740 New Engineering Students
On Tuesday 26 August, the Faculty of Engineering opened its doors to 740 new students. They start their studies with an introductory course with tasks that challenge the brain, teambuilding and social arrangements with fellow students.
Loud laughter mingled with shy talk when the vast number of new students met for the first time. The new students were welcomed by an intro team consisting of about 80 current students.
Fun and versatile programme
During the first four days, the new engineering students will follow an introductory course during which they have the opportunity to get to know their fellow students, mentors, tutors and lecturers as well as become familiar with the faculty's library, cantina and project rooms.
Along the way, the young people will also be introduced to semester assignments, project work and study techniques.
Social shaker-day
On Wednesday, teambuilding and a tour of the city of Odense are on the programme. Social shaker-day – as the initiative is named – was introduced successfully for the first time last year.
- The aim of social shaker-day is to get the students familiar with the city. They will have to use their smartphones to navigate to posts around the city. Among other things, they will visit the concert hall Posten, various parks and shops, says organiser Jonas Bendixen from Solaris Event, a national unit of the Danish Scout Corps.

- During the event there are posts which require joint activities with action and teambuilding. Each team consisting of 7-10 students, must for example pass a fictitious crocodile river with help from three boxes and two boards and at another post they will drive remote controlled cars. It has to be fun while they get to know Odense and each other, continues Jonas Bendixen who studies to become a civil engineer.

The week ends with a great study start party on Friday night, before it is time to get back to the daily grind on Monday 1 September.

See more photos on Facebook
For more information contact
Gitte Klausen gik@tek.sdu.dk