Millions for business behind artificial bones
With an investment of DKK 5 million, the entrepreneurs behind the company Particle3D have received money to further develop their invention: bone implants that become one with the body.
"Now we can calmly develop our product and business." So says co-founder of Particle3D Casper Slots of the news that the innovation environment PreSeed Ventures and several business angels have chosen to invest DKK 5.1 million in the company.

The artificial bones grew out of a Bachelor project. Casper Slots and Martin Bonde Jensen were studying a BSc in Engineering (Welfare Technology) at the University of Southern Denmark, and were put in touch with a jaw surgeon at Odense University Hospital by their supervisor, Morten Østergaard Andersen.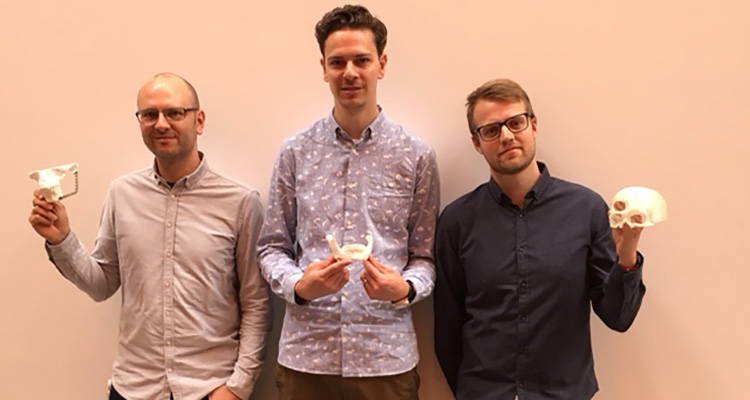 Jaw surgeon Torben Thygesen had a problem. Titanium implants were not good enough for jaw reconstruction, for instance after cancer. He was looking for a material that was easier to shape, could be 3D printed and that the body would accept.
Building a laboratory
Now the two former engineering students and their supervisor have created a bone material, which in animal experiments has shown that marrow and veins are regenerated in the artificial bone, and over time the artificial bone dissolves and turns into living bone. At the same time, they now have DKK 5.1 million to conduct new experiments and build up the company, Particle3D.

- Particle3D has just moved into its own premises here in Odense, and we're now building up a laboratory from scratch. We're going to develop things like a 3D printer, says Associate Professor and co-founder Morten Østergaard Andersen.

The next milestone for the company Particle3D will be to build up the organisation and the board of directors. But building up the company will happen in balance with the family development of the young fellows. Both Casper Slots and Martin Bonde Jensen have recently become fathers.

- When my son was born, the contract negotiations were just about to be concluded. It's hard work, and we don't have much free time to relax, but that's just the way it is. On the other hand, we try to take advantage of the flexibility we do have, says Casper Slots.
Photo: Morten Østergaard Andersen, Casper Slots and Martin Bonde Jensen