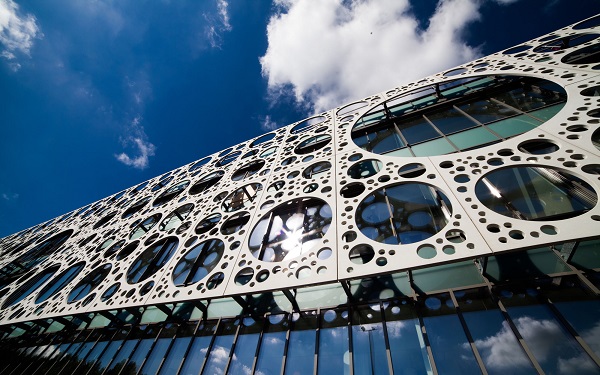 Inauguration: Engineers move to new building on campus
The boxes are unpacked and teaching rooms, offices and laboratories have been occupied by staff and students. On Wednesday, the University will inaugurate a brand new building on campus that will put technological research under one roof.
On Wednesday, the University will inaugurate the new building which will hereafter house the Faculty of Engineering where the new engineers of Southern Denmark are created.

Dean Henrik Bindslev, starting with a welcome, is looking forward to being closer to the other University departments day-to-day.

"I am thrilled that we have moved closer to the rest of SDU. Engineers feed off collaborating and finding solutions. Now we can interact with the University's other disciplines every day and invite them in to world class technological research facilities. Like modern engineering, the building's design stands for both vocational passion and playing with new ideas. Just look at the beautiful main staircase in the middle of the building - functional and at the same time architecturally innovative," he says.
Strengthening the study environment
In November, the new teaching building will be ready and the Dean points out that the short distance to the rest of the University will strengthen the study environment as well as the students' connections to other study programmes.
"We are looking forward to giving our engineering students state of the art classrooms. Our new shared address also makes it easier for the engineering students to take advantage of great offers from SDU fitness, the swimming pool, sports facilities, Friday Bar, the film club and much more," says Henrik Bindslev.
Guided tour of the new building
At the inauguration, there will be the opportunity to have a guided tour of the new building which has been nominated as school building of the year. Staff and students can move freely between the building's three storeys, with a ground floor accommodating 6,000 square metres of laboratories and workshops with modern facilities ensuring a solid academic learning environment for the engineers of tomorrow.
The building's intriguing facade is inspired by Italian architecture and gives a dynamic appearance and a large amount of natural light. The heart of the new building is the enormous staircase "Møblet" ("Furniture") that forms a point of cohesion between storeys and departments.

The inauguration will take place on Wednesday 30th September from 1pm until 3pm at the car park in front of the Faculty of Engineering. There will be the opportunity to have a guided tour of the building.