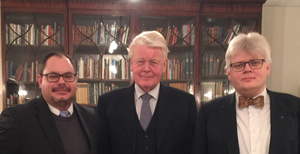 Head of department made adjunct professor in Iceland
Professor and head of Department of Technology and Innovation (ITI) at SDU has been made adjunct professor at University of Iceland.
During a trip to Iceland, where professor and head of department Michael Evan Goodsite was strengthening Nordic –Chinese Arctic relations and collaboration between ITI and foreign Universities, he was appointed adjunct professor at a ceremony at the University of Iceland.
The title of adjunct professor is given to persons, a university wishes to honour for their high academic level. Michael Evan Goodsite is thus naturally very honoured by the title:
"To me personally it is a sincere honour, but at the same time the appointment strengthens SDU's and ITI's international ties and our research activities in the arctic region. I am very happy with the strengthened cooperation between ITI and the University of Iceland," says Michael Evan Goodsite.
During the visit Michael Evan Goodsite met with the Chinese Ambassador to Iceland and the President of Iceland as their guests at their residences.
Michael Evan Goodsite is an expert within the field of climate change adaptation in the Arctic, and green military technology.
Pictured: From left Michael Goodsite, President of Iceland Ólafur Ragnar Grímsson and Professor Rasmus Gjedssø Bertelsen of Tromsø University, Norway.
For more information, please contact:
Professor and head of department Michael Evan Goodsite