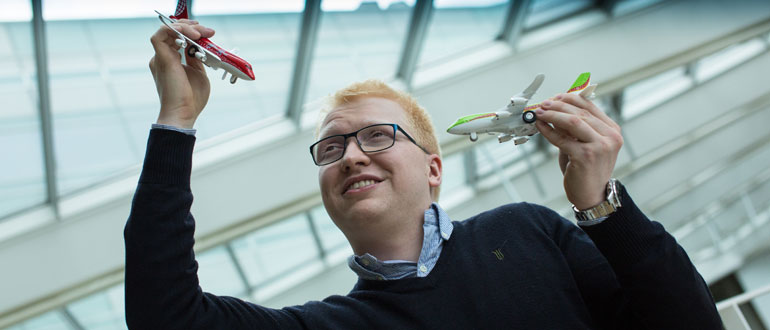 Engineer from SDU facilitates faster flights
Software student Henrik Møller Hansen was involved in the start up of AviationCloud. The business has specialised in sending aircraft through the clouds in the quickest way possible. The business has been so successful that a major American investor has chosen to invest in it.
Over 100,000 flights take off every day. With this amount of aircraft in the sky, it is a major challenge to find the optimal route through the clouds. But the business AviationCloud has specialised in optimising flight routes. An advanced computer system keeps track of the tangle of airspace restrictions and, not least, weather conditions.

- There is an enormous focus on effectivising the growing amount of air traffic. That's why I've been helping to develop software that exploits things like tailwinds, or temperatures where the aircraft's engines reach their optimal performance. The system ensures optimal development of the growing amount of traffic in the air.

CTO Henrik Møller Hansen from AviationCloud explains this while pointing at his computer. The sreen displays a spider's web of flight routes over Europe, which turns into patches of black near the big cities.

- A client can ask our server: What is the quickest way for me to get from Los Angeles to Heathrow in a jumbo jet? - Then our computer system calculates the route. In an average month we save a client like Norwegian 130 hours of flying time, he says.

Student business owner
When Henrik Møller Hansen was still only 21 years old and studying Software Engineering at SDU, he and two others started up AviationCloud. They saw a market for helping the aviation industry reach targets for making sure that the environmental impact of flying did not increase, despite the increasing amount of air traffic.

- By finding the most optimal routes for the flights, we save our clients a lot of money, in saved time and saved fuel. For instance, Norwegian now uses around 36 tons less of fuel per month. It's good for the environment and for the airlines' finances, says Henrik Møller Hansen.

And it didn't take much time before one of the major American players in flight planning showed interest in the small Danish business. The company ForeFlight from Houston in Texas wanted to invest, and this resulted in ForeFlight becoming a joint owner of AviationCloud at the turn of this year.

- It means a great deal to us. We now have the capital to attract major clients, and because ForeFlight is so big in the USA, the partnership is opening a lot of doors for us, explains Henrik Møller Hansen. He does not wish to reveal how much money ForeFlight has put into AviationCloud.

Started up business with his boss
ForeFlight's investment has meant that AviationCloud has moved to new premises at Odense Harbour, where the number of square meters is testimony to the business's ambitions of growing from its present size of eight employees.

- Our ambition is to have between twenty and thirty employees within three years. At the moment, we are looking for four new employees, so things are moving fast, says Henrik Møller Hansen.

He had never imagined that as a newly hatched software engineer he would be employing his fellow students. But his fate was sealed when, following an exam during his engineering studies a year and a half ago, he was contacted by his censor who offered him a study job. Henrik accepted and ended up starting AviationCloud with his study job boss.

- When I was studying, I thought that after I graduated I would be employed in a large IT company, but it is so great to be involved in creating something and watching it flourish, says Henrik Møller Hansen.