SDU Eagles develops sustainable drone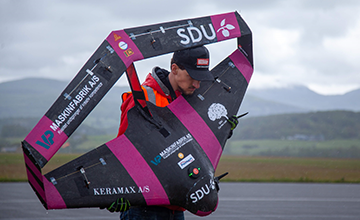 The ambitions seem endless for the 12 students that make up the drone team SDU Eagles. When the students started building their drone in 2018, the first major challenge was to even get it in the air. Now, both the done and the ambitions are reaching for the sky.- We want to revolutionize the way we transport goods. We have created a drone that flies on electricity and saves 30 % energy compared to other standard drones, says SDU Eagles team leader André Rangel de Sousa, who is studying Product Development and Innovation at SDU:
- Transportation is where most of our carbon emissions come from. But what if we used the sky instead of roads? Using drones for transportation can be very energy efficient.