New PhD Student Adam Seewald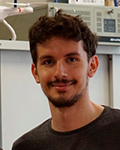 SDU UAS Center employed Adam Seewald as a PhD student within the EU-project TeamPlay from 1st of November. The topic of his PhD is "Low-power computer vision for drone systems" and his supervisors are Ulrik Pagh Schultz and Emad Samuel Malki Ebeid from the center.
Adam recently graduated from University of Verona upon his MSc thesis "Evaluation of Optimal Trajectories for Quadrotors with Indirect Methods in the presence of intermediate constraints" under the supervision of Paolo Fiorini and Fabrizio Boriero.
Adam's main area of interests are embedded systems, robotics, aviation, and computer science.