New Head of SDU UAS Center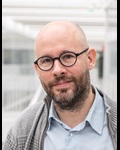 Professor Ulrik Pagh Schultz has been appointed new Head of SDU UAS Center.
Ulrik has been employed at SDU since 2005 and has been part of the UAS Center since 2017. It is therefore a leader with extensive experience in education, supervision and research who will take over the management of the UAS Center after Brad Beach, who has been heading the center and developed it from its beginning in 2015.
"As Head of the SDU UAS Center I will support our continued growth as a leader in the development of UAS technology for the good of society. We will build on our success with drones in areas such as infrastructure inspection and healthcare logistics, with an aim to demonstrate that UAS can provide societal benefit for the green transition." says Ulrik.