New Assistant professor Maryamsadat Tahavori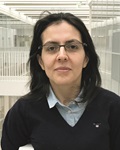 Maryamsadat Tahavori is employed as Assistant Professor at SDUUAS Center from January 15th, 2019, and will be working on Free the Drones Project (FreeD).
Maryam's research focus is on path planning, optimization and fault tolerant control of UAVs. She will also contribute to teaching at "Robot Systems with specialization in Drone Technology" education.
Maryam received her PhD from Automation & Control section, Aalborg University. She was previously employed at Center for Energy Informatics, SDU as an assistant professor.