In 2016 Center for Liver Research established the Patient Advisory Board which currently consists of 6 patients or close relatives to patients. The goal of having the Patient Advisory Board meeting is twofold. Center for Liver Research based at Department S, OUH has some patients and participants in the clinical trials who have a genuine interest in the Liver Research. Our researchers love to share their knowledge however during our many meetings it has become clear that the patients or relatives to the patients also possess a knowledge that is valuable for the research. But in order to activate this knowledge it is important to prepare and ask the right questions. For each meeting we invite researchers from Center for Liver Research to present dilemmas or difficulties they encounter in their research where they believe that patients might be able to contribute. One of the researchers who has participated in a Patient Advisory Meeting is Mie Balle Hugger, pre-graduate student at Center for Liver Research:
"I am involved in Reduction which is an intervention study focusing on diabetes 2 patients. We test how a low-carb/high-fat diet influences on a fatty liver. In collaboration with the Endocrinological Department, we aim to include 135 patients in the study. In May I consulted the Patient Advisory Board to get new input to our recruitment strategy and they had many concrete input on how to improve and on top of that some of them are now active in distributing knowledge about the study in their network", says Mie Balle Hugger.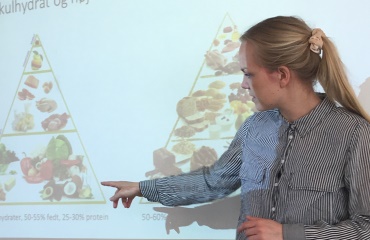 A different approach was initiated by Ditlev Nytoft Rasmussen, PhD Student at Center for Liver Research:
"When I visited the Patient Advisory Board in the spring, I thought it would be interesting to discuss a potential ethical dilemma of my research. For several months I had spent my time on analyzing data from our alcohol cohort with 400 patients. And I was beginning to consider some ethical implications of my results. I had of course been discussing this with my research colleagues, but discussing it with the patient advisory board gave some completely different thoughts on the dilemma which was a refreshing perspective", says Ditlev Nytoft Rasmussen.
Another relevant question to ask about Patient Advisory Board is: what is in it for the patients? Why do they bother spending an afternoon discussing research? We asked Lone McColaugh member of the Patient Advisory Board at Center for Liver Research:
"The reason why I prioritize to participate in the Patient Advisory Board Meeting is simply because I want to make sure that I have access to the newest knowledge about ongoing liver research. I make use of this knowledge as Head of the Danish Liver Association. However it is also important for me to contribute to the research by always keeping the patients interests in mind and I aim to be the voice of Patient in the discussion we have at the Advisory Board Meeting", says Lone McCoulaugh, who is both a close relative to a patient with liver disease and head of the patient organization the Danish Liver Association.
About the Patient Advisory Board
The Patient Advisory Board at Center for Liver Research meets approximately 4 times a year and at all meetings the management both from the research group and from the department is present.
If you want more information about the Patient Advisory Board at Center for Liver Research please contact Louise Skovborg Just (louise.skovborg.just@rsyd.dk)