From September 2020 we offer a revised specialization in Drone Technology under the name MSc. in Robot Systems with specialization in Drones and Autonomous Systems.
The new drone specialization entails a full four semesters master programme dedicated to drones in close cooperation with the area of artificial intelligence.

Programme structure
Profile Drones and Autonomous Systems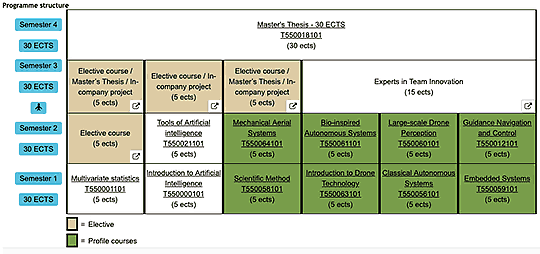 Click the overview to see a larger version.
The semesters as organized as follows:
First semester
First semester provides a general introduction to drones, autonomous systems, AI, electronic embedded systems, scientific working methods, and relevant mathematics (multivariate statistics).

Second semester
Second semester provides more specific courses, getting into deeper technical details on drones (guidance, navigation, control, perception) and bio-inspired autonomous systems, as well as AI and the mechanics of building an aerial system. An elective course ise used to go deeper into selected topics.

Third semester
Third semester mainly concerns integration of various skills, focusing on the Experts in Teams project course that combines open-ended innovation in a cross-disciplinary team with a deep technical contribution in the area of drones and autonomous systems.

Fourth semester
Fourth semester is finalization in the form of the MSc.
The Drones and Autonomous Systems specialization has a constituent part e.g. scientific methodology, fundamental artificial intelligence, image processing, mechanical engineering for aircraft and unmanned aerial system design.
Furthermore the programme relates to five different research areas, which you can read more about below.
Research area: Unmanned aerial systems
Flight controllers
Aircraft navigation and path planning
Ground control systems
Payload sensor- and actuator platforms
Reliable and redundant safety systems
Aircraft software engineering
Aviation legislation
Research area: Robotics
Kinematics
Robot system and automation engineering
Motion and task planning
Mathematical modelling of industrial systems
Computer simulation and animation
Research area: Artificial Intelligence
Classic artificial intelligence
"Behaviour-based" artificial intelligence
Neural networks
Generic algorithms
Adaptive robots
Bio-inspired robots
Research area: Embedded systems
Programmable electronics
Hardware/software co-design
Hardware-near programming
Wireless communication systems (hardware and software)
Motor control
Research area: Computer vision
Image processing
Object recognition
Real-time tracing of dynamic objects
3D Kalman filtering