The MSc Cultural Sociology consists of 120 ECTS, corresponding to 2 years of full-time study. The programme is offered in English.
The structure of the programme can be seen below: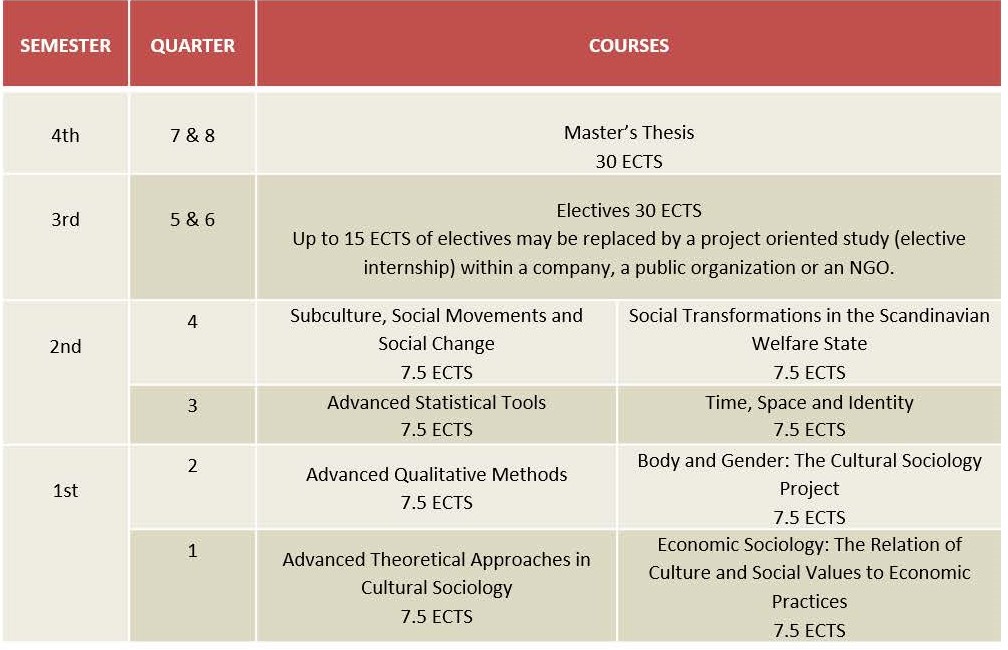 The first 1 ½ years of the programme are structured as quarter semesters. The first quarter includes a course on contemporary sociological theory and a course on economic sociology which, among other things, explores how cultural values, emotions and trust influence economic behavior.

The second quarter includes a course on transformations of bodily, sexual and gendered identities in contemporary societies and a course on advanced qualitative methods. The examination of the second quarter consists in a semester project (the Cultural Sociology Project) for which the students need to conduct a qualitative investigation (applying methods from the course in Advanced Qualitative Methods) on a topic related to body/gender/sexuality.

The third quarter includes the course "Time, space and identity" which addresses topics such as globalization, cultural identity, social media and racism as well as a course on advanced statistical tools. The fourth quarter includes a course on transformations of the Scandinavian welfare state and a course on social movements and sub-cultures.

In the fifth and sixth quarters students have the opportunity to do an internship in a public or private organization in Denmark or another country. During these two quarters students can also take elective courses at SDU or at other universities. Elective courses offered at SDU, Campus Esbjerg, may change but they have so far included courses on 1) Project management 2) Rural and small-town studies 3) Advanced Evaluation Methods 4) Senses and Society.

Read more about the courses offered at the programme.

During the last semester (7th and 8th quarters) students must write their thesis.