The master programme in Cultural Sociology consists of 120 ECTS, corresponding to two years full-study. The programme builds on the knowledge, skills and competencies achieved during the bachelor programme in Sociology and Cultural Analysis
The programme is offered in English.
The programme entails a range of thematic areas based on different sociological approaches to the description, understanding and interpretation of the various structures, systems, cultures and groups of society. The aim is to provide students with a holistic understanding of the development of the modern state.
The thematic areas frame the lessons at each semester in terms of an integrated package of theoretical courses, methodological courses and exams including The Cultural Sociology Project, all which encourage the interdisciplinary approach that characterizes the MSc Cultural Sociology programme.
First semester focuses on socio-cultural prespectives on body and gender issues, including modern family relations, health perceptions, the place of gender in different societal contexts as well as the idealized body and its consequences.
Second semester includes a space, time and identity perspective focusing on mobility, negotiations of identity, urban space, nature, rural-urban relations and physical changes as a mean for social processes.
Third semester investigates the role of cultures and countercultures in social transformation processes, including learning and innovation; societal and organizational development; diffusion of norms; as well as social exclusion and harassment.

During the fourth semester, the thesis will be written which has to be about a cultural sociological issue linked to social transformation processes.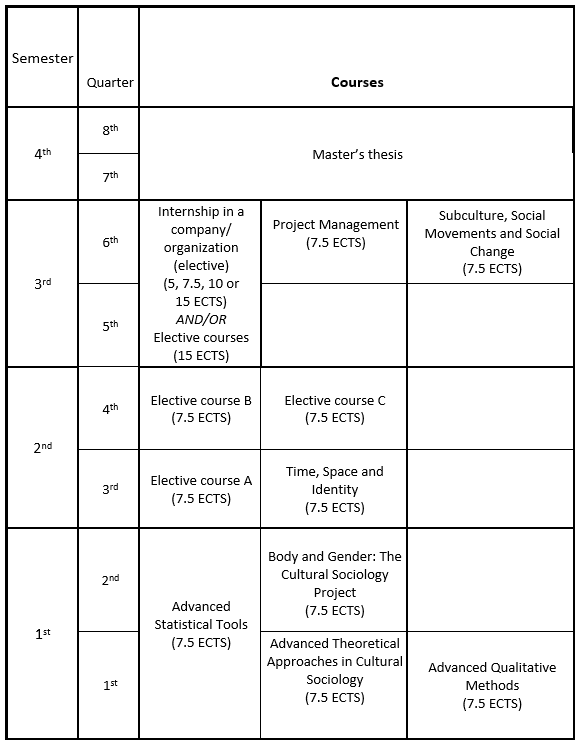 Each semester corresponds to 30 ECTS.