If you arrive at SDU Campusvej by car, we advise you to use the parking spaces at Fioniavej (P West) instead of parking at the Swimming Pool/ Cortex Park (P East). There are far more available parking spaces at Fioniavej.
Experience tells us that from 9.00 a.m. – 3.00 p.m. there will be no available parking spaces at P East. Furthermore, the ongoing roadworks for the tramway increase the risk of traffic congestion at the intersection of Campusvej/Niels Bohrs Allé in the time periods: 7.30 a.m. – 8.30 a.m. and 3.30 p.m. – 4.30 p.m. The tailback can last up to 15-20 minutes.
Parking is free at the parking areas SDU Odense. Please note that Cortex Park is not included - see the signposting in the area.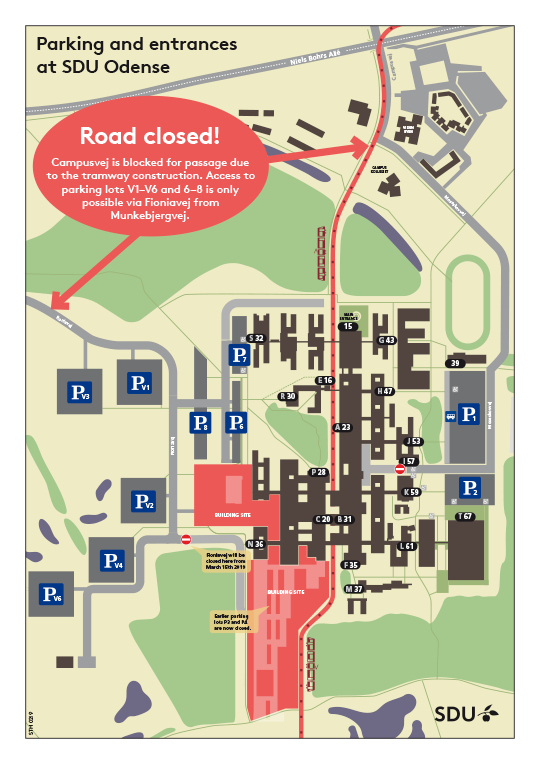 Click image for larger map
General Rules
In areas with marked parking bays you need to park in the bay.
Please park on the paved and gravel areas so that the area is used in the best possible way.
It is not allowed to park on grass areas.
It is not allowed to park on fire access roads.
The responsibility for the parking conditions at Campusvej lies with the Technical Services of SDU.
There is time-limited parking on a proportion of the parking spaces at entrance F.
Orientate yourself with the signs erected if you are in doubt.
Disabled
Parking spaces reserved for disabled are signposted with an "H".
Loading and Unloading
Loading and unloading is accepted if your hazard lights are switched on - however, maximum for 20 min.