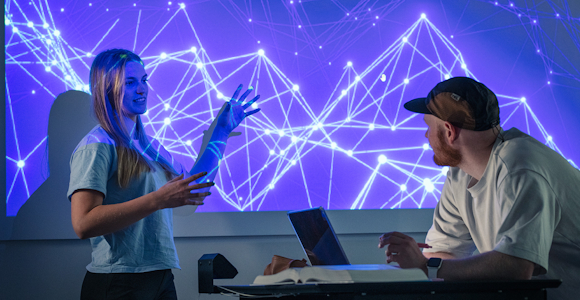 New BSc in Artificial Intelligence
We asked an artificial intelligence to write this press release about our new bachelor's programme in Artificial Intelligence at the University of Southern Denmark
At the University of Southern Denmark in Odense, we are proud to announce our new bachelor's degree: Artificial Intelligence.
The education will give the students a comprehensive understanding of the technology behind artificial intelligence – also known as AI – and will train the students to apply the technology in the infinite number of places where artificial intelligence can be used.
In just three years, the students gain skills that make them an attractive workforce for virtually all types of employers.
The education covers a wide range of topics, including machine learning, ethics, programming, natural language processing, cyber security and computer vision. Students will also have the opportunity to choose relevant electives, go abroad or gain practical experience through projects.
After the training, students will be equipped to take on a number of roles within the field, which is growing rapidly. Examples of job titles include machine learning engineer, business intelligence developer, data analyst and software architect.
The students will also be equipped to identify new places where AI-based solutions can be developed and applied to create value for their employers and thus contribute to a greener, healthier and richer society.
- We are very excited to be able to offer this education to students already after the summer holidays, says vice-dean for education Poul Nielsen from the Faculty of Science at SDU.
- It reflects our commitment to give our students the skills they need so that they can become part of a rapidly developing labor market - not least within AI, where precisely these students will be able to contribute meaningfully to society, he says.
As early as February 1, you can apply for the bachelor's programme in Artificial Intelligence, as the first class begins their studies this September.