Education and training
We welcome you in Composite Lab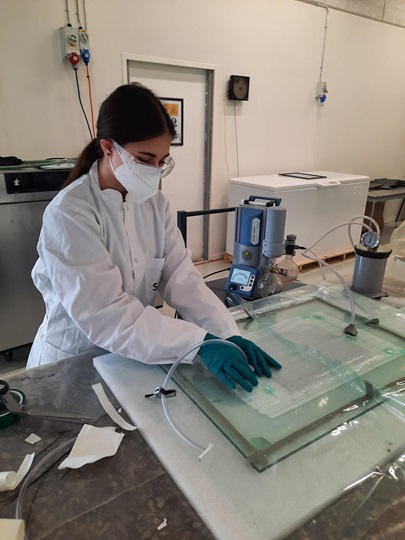 Advanced composite manufacturing technology training
We, as composite team, design and offer training courses to meet a wide range of engineers & technicians needs in the field of advanced composite manufacturing & fixed-wing drone structures.
Training course target:
Upgrading your skills and qualification for engineers and technicians working with composites including manufacturing, safety, design, moulding, testing and repair.
Training course method:
Theoretical (classroom)
Applied (300 sqm composite laboratory)
Course duration:
Courses from 2-5 days. Depends on required knowledge/skills
Main Topics:
Composites safety and work environment
Composite manufacturing technologies:
Wet lay up


Vacuum infusion technology for thermoset


Vacuum bagging technology for thermoplastic composites


Composite additive manufacturing (3D printing)

Drone development for fixed wing drones:
Flight Basics
Aerodynamic drone design, flight stability simulations
Composite structure repairs
Sustainable composites
Mould design
CNC milling for moulding
CNC foam cutting
Students at Bachelor and Master's level can work in Composite Lab and we will assist the students.
Furthermore, we support student projects and ideas.
You will find our contact information on the page Contacts in Composite Lab
From 2019 Composite Lab is offering a Summer School in August at HCA Airport /Drone Center
The 2019 Composite Lab Summer School was entitled "Applied composite drone manufacturing " and took place at the HCA Airport from 5 to 16 August 2019. The students were working towards the course target: "Make your ideas fly! Build your own composite drone body"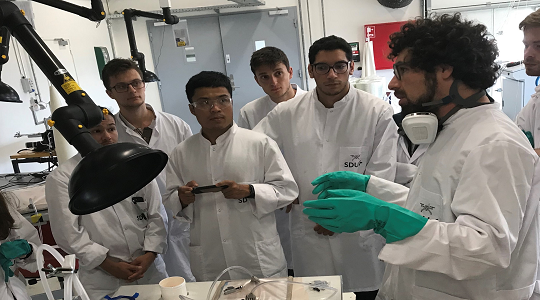 The aim of the course was to develop and manufacture student's individual composite drone (one in each team).
The teams got guidance along the way and had the freedom to develop their ideas and manufacture their individual designs.
Students got a basic theory teaching and got special skills teaching offered during the project phase.
The course offered two intense and interesting weeks where students got a lot of practical experience with composite materials and manufacturing technologies.
The students also learned applied product development and could exercise their project management skills as well as their team working capabilities.