Composite Lab Summer School
Starting 2019 Composite Lab is offering a Summer School in August at HCA Airport /Drone Center
Read more about this year's course, running from 3 to 14 August: Applied composite drone manufacturing.
You will find the course under the field Mechanical and Mechatronics Engineering.
The 2019 Composite Lab Summer School was entitled "Applied composite drone manufacturing " and took place at the HCA Airport from 5 to 16 August 2019.
The students were working towards the course target: "Make your ideas fly! Build your own composite drone body"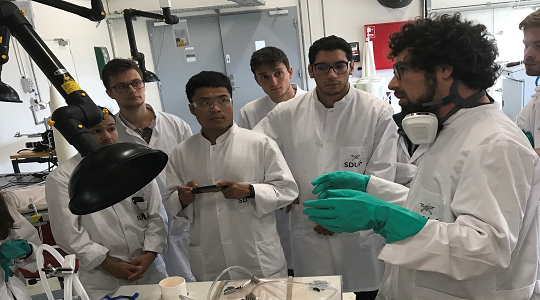 The aim of the course was to develop and manufacture student's individual composite drone (one in each team).
The teams got guidance along the way and had the freedom to develop their ideas and manufacture their individual designs.
Students got a basic theory teaching and got special skills teaching offered during the project phase.
The course offered two intense and interesting weeks where students got a lot of practical experience with composite materials and manufacturing technologies.
The students also learned applied product development and could exercise their project management skills as well as their team working capabilities.