SDU UAS Test Center offers companies, researchers, partners, and engineering students to work in our state-of-the-art laboratories and test areas to create coherent and safe drone systems.
Laboratories
If you have a R&D project within drones, composite materials or cyber-physical system, we offer first-class laboratories and support to bring your projects to life:
Our drone specialists are ready to assist in the laboratories and advise you on rules and regulations.
867km2 drone airspace
Our location at HCA Airport gives you the unique possibility to walk directly from the laboratories to the test field on airside. Here you can fly at low-risk in the 867km airspace over land and sea, that is dedicated to drones.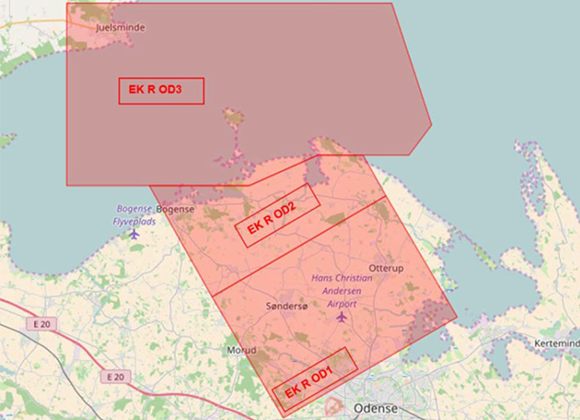 BVLOS and SORA applications
From the test field right outside the laboratories you can fly Beyond Visual Line of Sight (BVLOS) over Northern Funen.
If you wish to fly BVLOS, we have experts that can help you with the flight planning and the international rules and regulations. We can also guide you on your SORA (Specific Operations Risk Assessment) application or you can attend one of our 3-days SORA workshops, where you learn how to file your own SORA application for BVLOS flights in Denmark.
Who can use the Test center?
We invite both companies and universities to use the facilities for working on their individual projects and tests.
We also welcome our many project partners, who are working closely with SDU UAS Center on research and innovation projects.
Please contact us for individual prices.
Contact
For more information, you are always welcome to contact us
Location
SDU UAS Test Center, Beldringevej 252, 5270 Odense