FlexDraperProduct is a project funded by Innovation Fund Denmark, and is a continuation of two previous projects. The project aims at automating layup of prepreg fiber plies (woven fiber mats with epoxy resin) for manufacturing of customized composite components.
Each layup is different, and since the mats are only around 0.3mm thick, many layups are needed to create just one component. With Terma Aerostructures as the enduser, the focus is mainly on components for aerospace, but the technology is applicable also to wind turbines, automotive and other domains.
It is a challenge with a huge potential, and a challenge that has been unsuccessful addressed in various research projects worldwide over at least the last two decades.
However, through a consortium comprising experienced experts in robotics, computer vision, composite materials, and the needed qualifications, we are now very close to a solution, and we foresee a production ready prototype to be finalized in early 2021.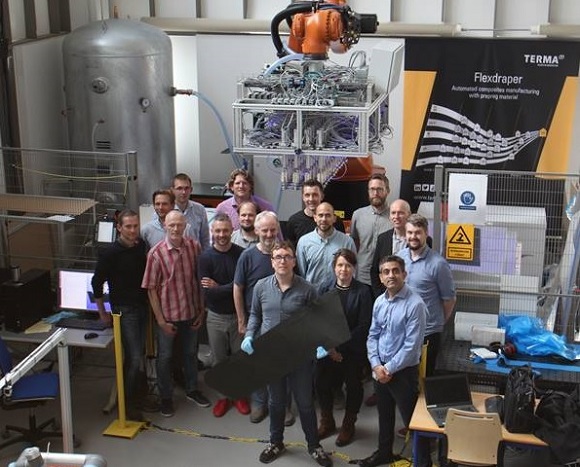 Contact:
Professor Henrik Gordon Petersen
Project Partners:
University of Southern Denmark, Denmark; Aalborg University, Denmark; Technical University of Denmark, Denmark; Netherlands Aerospace Centre, The Netherlands; Terma Aerostructures A/S, Denmark; Technicon A/S, Denmark