The master programme is a two-year programme on top of a relevant three-year bachelor degree.
Programme structure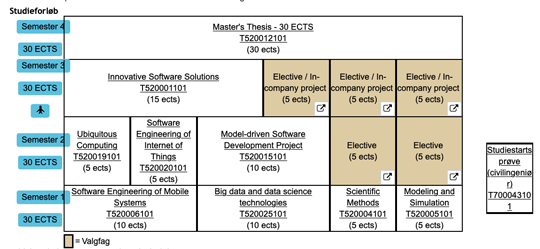 Click the overview to see a larger version.
The course of the Master Degree Programme

First and second semester
In the first semester you will further develop your knowledge of and experience with software engineering and project management. You will also learn about scientific methods.

During the first two semesters you will have the opportunity to immerse yourself in mobile and ubiquitous computing, software ecosystems and data science, where project work offers the possibility to test theory in practice.
Half of the second semester consists of electives.
Third semester
In this semester you will learn how to carry out an innovation and development process that results in a new product or a new service which is aimed at existing markets or growth markets. Half of the semester consists of electives. You can choose to use some of the electives as part of your thesis so that by the third semester you will already have started your thesis. Another option is to choose an internship with a company.
Fourth semester
In the final semester you will write your thesis in software engineering. Read more about curriculum and subjects.