Susanne Mandrup is Professor at Department of Biochemistry and Molecular Biology at the University of Southern Denmark where she serves as Director of the Center of Excellence in Functional Genomics and Tissue Plasticity (ATLAS) and the newly established Center for Adipocyte Signaling (ADIPOSIGN), as well as Head of the Functional Genomics & Metabolism Research Unit. Furthermore, she is Chair of Biochemistry and Molecular Biology at the Danish Institute of Advanced Study (D-IAS).
Dr. Mandrup obtained her PhD in Biochemistry in 1992 from the University of Southern Denmark (formerly Odense University) and was postdoc in the lab of Prof. M. Daniel Lane at Johns Hopkins University, Baltimore 1995-96. She was recruited back to Odense as Assistant Professor in 1996 and was promoted to full Professor in 2008.

The Mandrup Group has contributed significantly to the genome-wide understanding the cross-talk between transcriptional regulation and metabolism, particularly in the context of adipocyte differentiation and function. The current focus of the group is to understand the in vivo plasticity of cells in adipose tissue and the endocrine pancreas, and to understand the basic mechanisms of transcriptional enhancers. The group combines sequencing-based functional-genomics approaches with detailed molecular analyses to study these processes in mouse models, human biopsies, and cell cultures.
Dr. Mandrup is an elected member of the Royal Danish Academy of Sciences and Letters, Academia Europaea, AcademiaNet, and the European Molecular Biology Organization (EMBO), and she is Knight of the Order of Dannebrog.
You can read more about the Mandrup Group at the Mandrup Group website.
Head of research: Professor Susanne Mandrup
Research group:
HCA Academy Professor Gordon Hager
Center administrator Louise Cathrine Braun Elmelund-Præstekær
Center administrator Anne Kirstine Juncker (Maternity Cover)
Academic staff (Laboratory Manager) Ronni Nielsen
Research Associate & PA to Susanne Mandrup Ann-Britt Marcher
Junior principal investigator Jesper Grud Skat Madsen

Postdoc Maria Stahl Madsen
Postdoc Anitta Kinga Sarvari
Postdoc Tania Paloma Quesada-Lopez
PhD Fellow Mette Larsen
PhD Fellow Elvira Laila van Hauwaert
PhD Fellow Lasse Kruse Markussen
PhD Fellow Kari Østerli Frafjord
PhD Fellow Maria Victoria Mikkelsen

PhD student Lasse Lehtonen
PhD student Maja Worm Andersen
Industrial PhD student Julia Peics
Laboratory technician Tenna Pavia Mortensen
Laboratory technician Maibrith Wishoff
Laboratory trainee Micki Grud Günzig
Transcriptional networks in the regulation of differentiation and metabolism
The research in the Mandrup Group focuses on understanding fundamental aspects of transcriptional networks regulating stem cell development and cellular plasticity. Moreover we are specifically interested in transcriptional networks regulating:
Plasticity of the adipose tissue in obesity and regression
Plasticity of the endocrine pancreas in response to insulin resistance
Adipocyte signaling states and the dependence on metabolic state, depot, gender and genetic variation
Lineage determination and differentiation of adipocyte progenitors
We employ detailed molecular and physiological studies, and genome-wide next generation sequencing-based approaches to study transcriptional networks in cell culture and murine model systems as well as in human biopsies.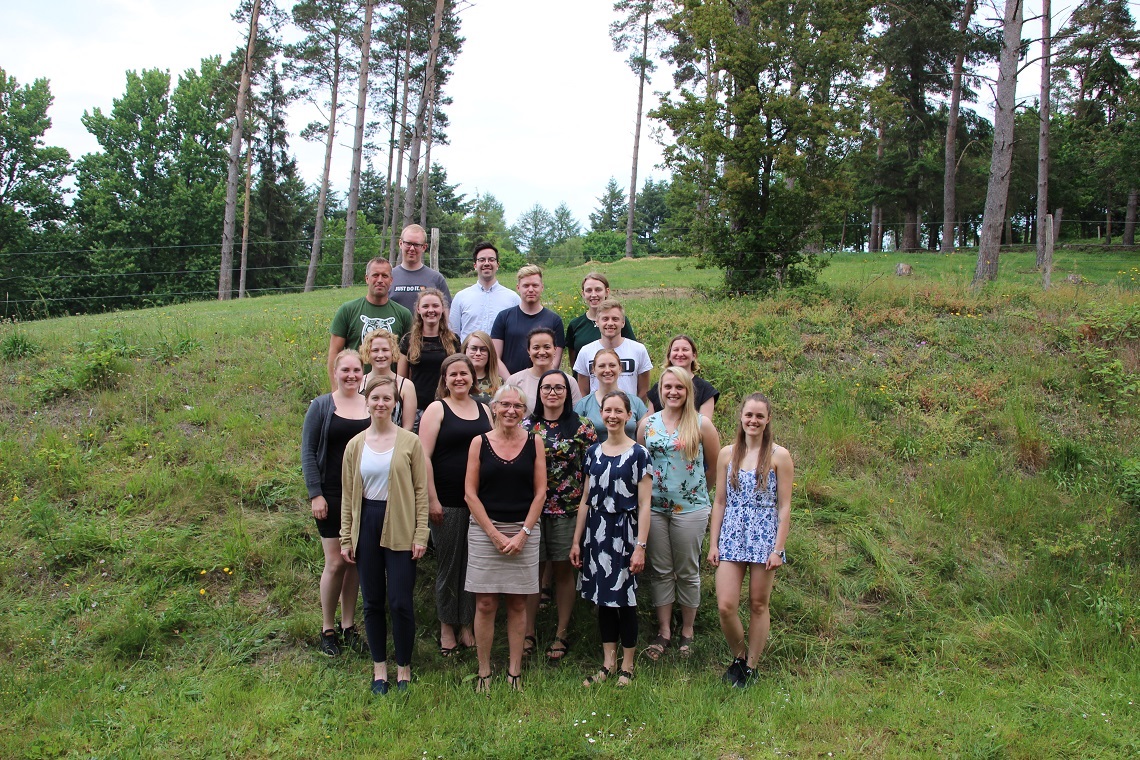 Current research projects
For more information on current research projects in the Mandrup group please visit the Mandrup group website.
Selected publications
Browning of human adipocytes requires KLF11 and reprogramming of PPARγ super-enhancers.
A. Loft, I. Forss*, M.S. Siersbæk*, S.F. Schmidt, A.-S. B. Larsen, J.G.S. Madsen, D. Pisani, R. Nielsen, M.M. Aagaard. A. Mathison, M.J. Neville, R. Urrutia, F. Karpe, E.-Z. Amri, S. Mandrup (2015) Genes & Dev. 29, 7-22.
Dynamic rewiring of promoter-anchored chromatin loops during adipocyte differentiation.
R. Siersbæk*, J.G.S. Madsen*, B.M. Javierre*, R. Nielsen*, E.K. Bagge, J. Cairns, S.W. Wingett, S. Traynor, M. Spivakov, P. Fraser¤, S. Mandrup¤ (2017) Mol. Cell 66, 420-435.
Osteogenesis depends on commissioning of a network of stem cell transcription factors that act as repressors of adipogenesis.
A Rauch, A.K. Haakonsson, J.G.S. Madsen, M. Larsen, I. Forss, M.R. Madsen, E.L. Van Hauwaert, C. Wiwie, N.Z. Jespersen, M. Tencerova, R. Nielsen, B.D. Larsen, R. Röttger, J. Baumbach, C. Scheele, M. Kassem, S. Mandrup (2019) Nature Genetics 51, 716–727.
A full list of publications by professor Susanne Mandrup can be found here.