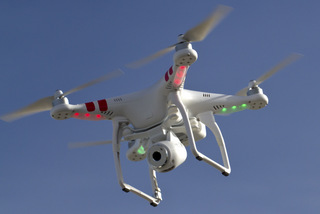 SDU will shape the future of drone technology with groundbreaking study programme
SDU (University of Southern Denmark) is launching a Master of Science in Engineering study programme specialising in drone technology - the first of its kind in Europe. The engineers of tomorrow who will deliver solutions for the rapidly growing drone industry will be educated here.
Drones can warn of impending natural disasters, increase sustainable agricultural production and find missing people in vast areas. The flying robots are expected to play many and important roles in the future. Knowledge and creativity will drive the development.
That is why in September SDU's Faculty of Engineering will throw open its doors to a two-year
Master of Science in Engineering specialising in drone technology
, the first of its kind in Europe, with the goal of training engineers who can develop technology for the drones' budding industry adventure.
"Robot research is an essential basis for being able to educate engineers specialising in drone technology. We are leading the field of robots and have Denmark's most substantial drone testing facility in close proximity in the form of HCA Airport. SDU is therefore in the best position to educate engineers for the drone industry and with this initiative provide a timely study programme for engineers who will drive development and ensure that a considerable part of this evolving industry is based in Denmark," says the Faculty's recently appointed dean, Henrik Bindslev.
According to estimates from the EU, in ten years drones will account for 10% of the aviation market. This is equivalent to an industry worth 15 billion euros per year. In order for the estimate to be realised it is essential that legislation is adapted to the new reality created by the flying robots so that drones have the opportunity to fly Beyond Line of Sight, as it is termed in aviation language. However, this is dependent on drones being more reliable than they are now - an aspect SDU will also work on.
The new Master of Science study programme specialising in drone technology is open for intake until the semester begins in September. A bachelor in robot technology or other relevant engineering qualification is required for admission.
Knowledge of robots transferred to drones
The new study programme will be a specialisation of SDU's existing Bachelor of Science in Engineering (Robot Systems) and the two fields of technology will be closely connected.
"Much of our knowledge about robots can be directly transferred to drones, for example in the sensors which make sure that drones don't fly into obstacles, other air traffic or each other," explains Kasper Hallenborg, Head of Institute at the Mærsk Mc-Kinney Møller Institute where the new study programme is to be housed.
University and airport in partnership
SDU works closely with HCA Airport which has Denmark's leading drone testing facility in the form of UAS Test Centre Denmark and offers unique opportunities for the new study programme.
"The partnership with UAS Denmark and our business network gives us an invaluable opportunity for creating synergy between research, innovation and education. Students can test out their knowledge in practice just as we expect that many of them can write their thesis with the drone companies which use the airport," says Kasper Hallenborg.
At the airport the new study programme is welcomed: "We are extremely positive about SDU's investment in a new Master of Science in Engineering study programme specialising in drones. It fits in very well with our ambitions to create Europe's leading centre of drone technology," says HCA Airport's director, Christian Berg.
For more information contact:
Head of Institute Kasper Hallenborg