Ole N. Jensen (*1965, Odense, DK) is professor of protein mass spectrometry at the Department of Biochemistry and Molecular Biology, University of Southern Denmark (SDU) in Odense.
He obtained the degree of PhD in Biochemistry and Biophysics in 1994 at Oregon State University at Corvallis, USA, based on studies of protein-nucleic acid interactions with professor Douglas F. Barofsky. He then joined the research group of Matthias Mann at the European Molecular Biology Laboratory (EMBL) in Heidelberg, Germany, where he contributed to the development of mass spectrometry tools for the emerging research field of proteomics.
In 1997 he returned to Odense and the University of Southern Denmark as an assistant professor and he initiated studies of protein phosphorylation using affinity enrichment methods and tandem mass spectrometry. He became an associate professor in 2000 and then a Lundbeck Foundation Research Professor 2004-2009. He was awarded an EliteForsk prize from the Danish Ministry of Science in 2009 for his contributions to the development of the field of phosphoproteomics to study cell signaling and regulatory networks.
In recent years, Ole N. Jensen's research focus has moved to chromatin biology and epigenetics and "middle-down" proteomics approaches and mass spectrometry to study co-existing post-translational modifications and their cross-talk in proteins.
Ole N. Jensen has supervised more than 50 Master's students, PhD students and postdocs and he has established collaborations with academic and industrial scientists in and outside Denmark. He is founding member and President of the Danish Proteomics Society (DAPSOC) and a member of HUPO, EuPA and ASMS. In 2014 he became a member of the Danish Academy of Technical Sciences (ATV).
Ole N. Jensen served as Head of Department of Biochemistry and Molecular Biology at SDU from 2010 to 2016.
Ole N. Jensen is director of the VILLUM Center for Bioanalytical Sciences at SDU, which was inaugurated in 2014 based on a DKK 60M grant from the VILLUM Foundation. He is also directing PRO-MS, the national Danish research infrastructure for mass spectrometry and functional proteomics.
Head of research: Professor, PhD Ole Nørregaard Jensen

Researchers and research group: Ole Nørregaard Jensen Lab
A complete list of publications by Ole Nørregaard Jensen can be found here.
How do proteins work?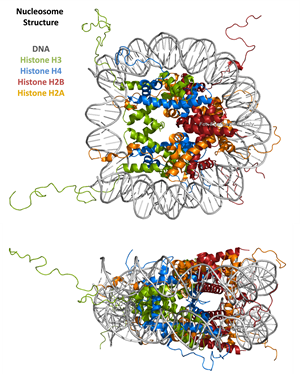 Proteins are often described as the workhorses of the cell because they play many structural and functional roles in maintaining cellular metabolism and integrity and they respond to changes in the cellular environment. We aim to elucidate the molecular mechanisms that regulate protein functions and activities in order to understand how complex protein networks in the cell are regulated and how diseases develop, e.g. in the context of cancer. We are particularly interested in studying proteins in chromatin and their involvement in transcriptional and epigenetic regulation. We are also investigating proteins in mitochondria and their behavioour in the context of metabolism and diabetes. We use advanced mass spectrometry and computational methods to study dynamic and static post-translational protein modifications, such as phosphorylation, acetylation and glycosylation.
Protein Research group
Center for Epigenetics
Current research projects
Bioanalytical technology development for protein characterization
We are continuously optimizing and expanding our analytical tools for protein analysis, including peptide separation and sequencing, mapping of mutations and post-translational modifications, and bioinformatics and statistics techniques for data analysis. We use a variety of advanced mass spectrometry methods, including electrospray ionization (ESI) and matrix-assisted laser desorption/ionization (MALDI) mass spectrometry. The aim is to make it more straightforward to investigate the proteins in cells and tissues using functional proteomics approaches, thereby elucidating fundamental biological mechanisms and origins of disease.
Elucidation of epigenetic mechanisms by functional proteomics
We are part of the Center of Excellence in Epigenetics financed by the Danish National Research Foundation (www.epigenetics.dk). We investigate proteins that are involved in maintaining chromatin integrity, regulating transcriptional activity and propagation of epigenetic information. We are particularly interested in developing "middle-down" and "top-down" methods for protein characterization in order to unravel the role of co-existing modifications in chromatin binding proteins and transcription complexes in mammalian stem cells.
Selected publications
Interpreting the protein language using proteomics.
Jensen O. N., Nat Rev Mol Cell Biol., 2006 Jun;7(6):391-403. Review.
Phosphoproteome analysis of functional mitochondria isolated from resting human muscle reveals extensive phosphorylation of inner membrane protein complexes and enzymes.
Zhao X.; León I. R.; Bak S.; Mogensen M.; Wrzesinski K.; Højlund K.; Jensen O. N., Mol Cell Proteomics., 2011 Jan;10(1):M110.000299.
Precision Mapping of Coexisting Modifications in Histone H3 Tails from Embryonic Stem Cells by ETD-MS/MS.
Jung H. R.; Sidoli S.; Haldbo S.; Sprenger R. R.; Schwämmle V.; Pasini D.; Helin K.; Jensen O. N., Anal Chem., 2013 Sep 3;85(17):8232-9.
Middle-down hybrid chromatography/tandem mass spectrometry workflow for characterization of combinatorial post-translational modifications in histones.
Sidoli S, Schwämmle V, Ruminowicz C, Hansen TA, Wu X, Helin K, Jensen ON., Proteomics. 2014 Oct;14(19):2200-11.
Large scale analysis of co-existing post-translational modifications in histone tails reveals global fine structure of cross-talk.
Schwämmle V, Aspalter CM, Sidoli S, Jensen ON., Mol Cell Proteomics. 2014 Jul;13(7):1855-65.
Top-down and Middle-down Protein Analysis Reveals that Intact and Clipped Human Histones Differ in Post-translational Modification Patterns.
Tvardovskiy A, Wrzesinski K, Sidoli S, Fey SJ, Rogowska-Wrzesinska A, Jensen ON.
Mol Cell Proteomics. 2015 Dec;14(12):3142-53.
Systems Level Analysis of Histone H3 Post-translational Modifications (PTMs) Reveals Features of PTM Crosstalk in Chromatin Regulation.
Schwämmle V, Sidoli S, Ruminowicz C, Wu X, Lee CF, Helin K, Jensen ON.
Mol Cell Proteomics. 2016 Aug;15(8):2715-29.