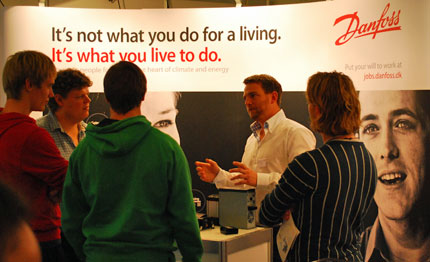 Job Fair at TEK 24 October
Several of the country's heavy hitting engineering companies will visit the Faculty of Engineering on Thursday 24 October 2013. This year activities include visits from Esbjerg's booming offshore industry, which lacks engineers by the dozen.
Development engineer at Lego? Thesis student at Novo Nordisk? Or maybe offshore engineer on an oil rig in the North Sea?
When TEK opens its doors for Job Fair on 24 October, both engineering students and recent graduates have the opportunity to learn more about internship and job opportunities at the, around 20, involved engineering companies. And with heavyweights such as Danfoss, Rambøll and Lego there is something for everyone – regardless of job dreams.
Excited to recruit graduates
It can be a very good idea to look towards the West. Esbjerg's offshore industry is booming and the city is expected to lack 3,300 graduates in the coming years – including a lot of engineers. Schlumberger Esbjerg and Rambøll employed up to 100 new employees at their Esbjerg office in 2012 and are among the companies participating in this year's fair.
"The offshore industry is experiencing a shortage of engineers and technicians and is excited to recruit the recent graduates," says Jacob Bom Madsen, President of the Engineering Students of Southern Denmark, which organizes the fair in cooperation with Mediehuset Ingeniøren.
Jobtræf Fyn takes place on Thursday 24 October 2013 from 9.00 am to 15.30 pm. at The Faculty of Engineering, Niels Bohrs Allé 1, 5230 Odense M.
For more information contact
Engineering student Jacob Bom Madsen at formand@sif.sdu.dk / mobile: 2611 6938
Image: Jobtræf Fyn 2011