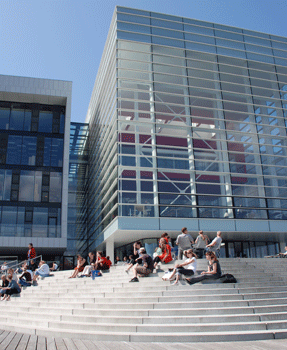 4 mill. DKR for cross-border cooperation
The Mads Clausen Institute in Sonderborg is part of a new project which is to strengthen and develop the border region of southern Denmark.
The Mads Clausen Institute (MCI) and the Department of Border Region Studies, both located at Alsion in Sonderborg, have received a grant of about 4 mill. DKR for the project 'Emerging Attraction'.

The aim of the project, to be carried out jointly with the University of Flensburg and the Flensburg University of Applied Sciences, is to exploit regional potential to attract the highly skilled workforce needed for the continued development of the region.

Strengthening innovation and development
In the engineering field, the project will among other things allow private companies to make use of the universities' technological facilities, thereby strengthening innovation and making the region more attractive to companies as well as highly skilled persons.

"At the MCI we wish to increase cooperation between companies, society and university, to which end we have founded the MCI TECHNET as the institute's 'door opener' towards the surrounding world. Both the Interreg IVB project 'Technet_nano' and 'Emerging Attraction' very well support these initiatives", says Horst-Günther Rubahn, head of the Mads Clausen Institute.
Support makes cooperation possible
"Companies and university alike need a highly skilled workforce, if the Border Region is to continue its development", says head of the Department for Border Region Studies, Elisabeth Vestergaard, adding:
"By cooperating across the border we hope to contribute to making the region an even more attractive place to work. To achieve this the support from Interreg IVA, making cooperation with both danish and German partners possible, is of vital importance".
'Emerging Attraction' is supported by Interreg IVA and runs for 3 years.
For more information, contact
Head of Institute Horst-Günther Rubahn at rubahn@mci.sdu.dk
Picture: Alsion in Sonderborg.