Prize to SDU Eagles in IMECHE UAS Challenge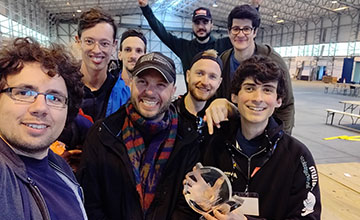 SDU Eagles competed against 32 teams from all over the world in the world's largest drone competition for students. The team has designed a new type of fixed winged drone to be used in humanitarian aid such as transport of emergency aid to remote areas.
SDU Eagles won the prize for Most Promising Team. "The jury really liked the design and quality of our drone's construction. We were told that we were one of the most positive, cooperating and motivated teams in the history of the competition", says team leader André Sousa, who studies mechanical engineering at SDU.
Now, the team will refine the drone and optimize the systems before next year's IMECHE UAS Challenge 2020.
SDU Eagles is a voluntary student association at SDU and consists of 10-12 students with a passion for drones from different educations. The team is open for more interested members.
Find SDU Eagles on Facebook.