Become a specialist in musculoskeletal diseases
Do you want to help people with pain and ailments of the musculoskeletal system (bones, joints and muscles)? Do you like to solve complex case histories, be challenged intellectually, be part of a larger treatment team and perform practical manual skills? Are you keen on a high level scientifically founded education supplemented with practising manual skills? Then Clinical Biomechanics (Chiropractic) is your new course of study!
Clinical Biomechanics (Chiropractor) is the area of Health Sciences where biological, biomechanical and psychological knowledge is utilized in combination to treat the diseases which people with pain and problems of the joints, muscles and bones are affected by. As a chiropractor one should be able to prevent, examine, diagnose and treat musculoskeletal diseases and disorders with the use of the latest scientific knowledge and technological progress. Once qualified you are to continue to acquire the latest knowledge by, for example, participating in continuing education.
The training provides you with a broad introduction to the prevention, physical examination, diagnosis and treatment of disabilities of the musculoskeletal system and your career opportunities are therefore abundant. You can open your own clinic and treat patients covered by health insurance. You can also specialize within the hospital system, become a researcher, teach and much more – see the section on career opportunities.
Theory and skills training
From the training of Clinical Biomechanics (Chiropractor) you'll acquire the scientific basis which is a prerequisite for you to be able to function as a chiropractor later. You'll learn to seek out new knowledge, be critically analytical of that knowledge and then apply it in the real world, where the patients are. You also need to be trained in and practice skills that will develop you professionally as a chiropractor.
The training requires that you can apply yourself to a large amount of knowledge from many different subjects (academic competences). The new knowledge you learn will be connected to everyday life as a chiropractor via skill laboratories and clinical internships. In the skill laboratories, you'll be confronted with the practical skills which constitute the hallmark of a chiropractor. Here you'll learn, among other things, to:
Perform various types of evidence-based manual treatment
Perform an orthopaedic and neurological examination
Create training and exercise therapy
Give ergonomic advice and guidance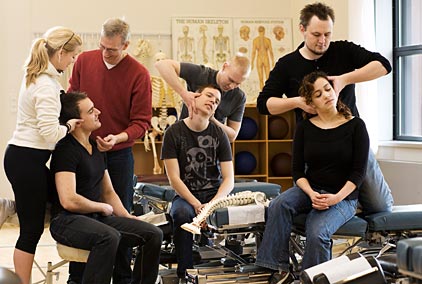 Work experience at outpatient back clinics, hospitals and chiropractic practices
In the course of your study you will enjoy clinical internships at outpatient back clinics, hospitals and with a practising chiropractor. Here you will encounter patients from the real world, which you must learn to receive, assess, treat and inform.
Become a Chiropractor
In order to become a chiropractor you need to complete the training, consisting of a: