Newly established company concentrates on concrete
The entrepreneur company Sensohive has found its niche. Sensors for the concrete industry. The three engineering students from SDU, who three years ago started their own company, now have the support of a technology concern and are busy writing job advertisements.
By Birgitte Dalgaard, bird@tek.sdu.dk
The company Sensohive, which three years ago sprang out from SDU, has now found its niche in the burgeoning technology market. The business plan has been adjusted, and now the company is planning on selling sensors to the concrete industry.
- Our sensors, which are placed inside precast concrete panels, can tell exactly when the concrete is hardened and ready to use. Formerly, concrete factories wasted precious time on making sure that the concrete had hardened. Now, quality managers can get an overview of all the hardening processes on a dashboard, says the 25-year-old CEO Casper Harlev.
Along with Tobias Ejersbo and Tim Larsen, he started Sensohive three years ago. During their studies on their respective MScs in Product Development and Innovation and Robot Technology, they wrote a semester project on sensors in the food industry. They believed so much in their idea that they abandoned their studies to become entrepreneurs.
- For six months, we occupied a space of 12km2 that smelled of old coffee and beer. We got permission to use an area in the old Faculty of Engineering building. We stayed there for six months. We met at 6 am and slogged away, surviving on bread and water. We didn't get SU or a salary. Now, three years later the total investment in Sensohive has reached the double-digit million range. It's wild to think about it, says Casper Harlev.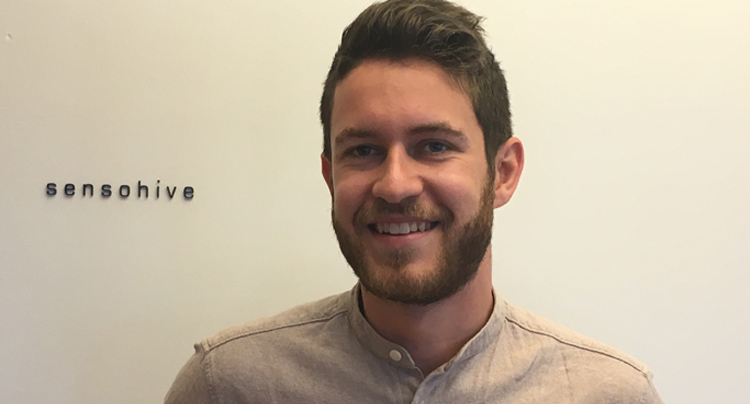 Found its niche
But it was difficult to get sales of sensors for the food industry's refrigerators properly started. At the same time, however, another idea began to take shape. In fact, the germ of Sensohive's new business idea began to form in the old coffee-stained space. For not far down the corridor were some construction engineers, and they mentioned an undiscovered market in the concrete industry. Namely, developing sensors that can tell when concrete is hardened and ready for use.
- If we are to survive, we have to find a niche where we stand out from the crowd. So we spent a lot of time figuring out what makes us special. How are we different? Now our goal is to be the best at measuring concrete, explains Casper Harlev.
And it has turned out to be exactly the right niche. The concrete sensors are operating in all time zones. In 22 different countries. In Denmark, they are used by companies such as Contiga Tinglev A/S, which is one of the country's leading producers of prefabricated concrete panels.
- Not many people would have imagined that the concrete industry would be one of the first industries to enter Industry 4.0, laughs Casper Harlev and points out that their calculations for a typical customer show that the concrete factory's investment in sensors will have broken even within three months.
As the orders have started coming in, the number of employees has followed suit. Now they are nine. And last year Sensohive entered into a partnership with the global technology concern Sigfox. The collaboration has led to the launch and internationalisation of the Sensohive Orbit series, a wireless temperature and moisture guage for refrigerators and freezers.
The hunt for investors
Five months ago, Sensohive moved into new premises at the harbour in Odense, with a lounge area and plenty of space to accommodate even more employees.
- We were lucky that three years ago Innovation Fund Denmark believed in us as a newly established company. At a very critical moment, they gave us money so we could afford to buy equipment and test out our ideas, which is essential for a technology company, says Casper Harlev.
The three engineers still have majority shares in the company, and so it has to be in order for them to find the motivation to put 70-80 hours per week into the company. And the motivation that lies in seeing an idea succeed is something that investors have respect for.
- When investors are considering whether a company is worth investing in, they are to a large extent buying into the team. It means a lot for them to see that we were willing to slog away without pay, and that we were willing to leave our studies. Personal dedication and the willingness to put blood, sweat and tears into the company means a lot to investors, says Casper Harlev.