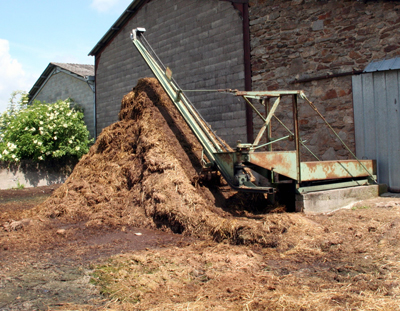 Rising demand on meat strains sustainability
Researchers from the Institute for Chemical, Biological and Environmental Technology are taking part in a project on the extraction of energy, nutrients and organic matter from farm waste
Global demand for meat, milk and eggs has tripled in the past four decades and is expected to double again by 2050. The global production of animal foodstuffs puts heavy strains on environment and climate. The Institute for Chemical, Biological and Environmental Technology (KBM) is now part of a new European research project, "ReUseWaste", which over coming years is to find innovative solutions and technologies to handle the huge amount of harmful manure created by livestock production. In Denmark alone, 34 million tons of animal manure is produced every year.

The project paves the way for innovation and new technologies
Animal farming production demands an enormous input of resources, such as land, energy, water and nutrients. New research, development and innovation are to pave the way for new technologies and systems to make farming more resource-efficient.

Researchers from the KBM are to work on optimising the composition of concentrated manure products and at the same time produce clean water. The research implies among other things cooperation with Alfa Laval, KOMTEK and VERA and the partners of the project in Spain, Portugal, Italy, Ireland, Holland and Denmark.

The aim is an efficient use of resources in farming
"The research project will focus on the extraction of bio-energy from waste in order to reduce consumption of fossil energy, increasing recycling of nutrients in order to decrease the use of artificial fertiliser and conserving soil quality by returning organic matter to farm land", says assistant professor Lene Fjerbæk Søtoft from the KBM.

"ReUseWaste" deals with three focus areas, nutrients, energy and organic matter in agricultural production, and is based on strong cooperation between scientific research institutions and environmental technology companies. This is to be done by focusing on the strengthening of competence building among future young scientists across Europe and between universities, companies and authorities.

For further information contact
Assistant professor Lene Fjerbæk Søtoft, the Institute for Chemical, Biological and Environmental Technology at the Faculty of Engineering. lfj@kbm.sdu.dk / +45 6550 7479

Facts
From 2012-2015, the research project 'ReUseWaste: Recovery and Use of Nutrients, Energy and Organic Matter from Animal Waste' is financed by € 3.24 million from the EU FP7 Marie Curie Action programme, an Initial Training Network. The project, which includes 18 partners in 6 European countries, among them universities, private sector companies and public authorities, will train 14 young researchers. Read more at www.reusewaste.eu

The Institute for Chemical, Biological and Environmental Technology already coordinates the project "CleanWaste", supported by the Strategic Research Council and focusing on sustainable environmental technology for the conversion of animal manure into green commercial fertiliser and bio-energy.