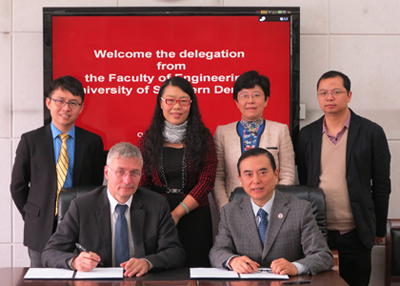 Faculty of Engineering initiates double collaboration in China
SDU's faculty of engineering has recently strengthened its international relations by commencing a double collaboration with a Chinese university.
The new agreement involves both a PhD- and an exchange collaboration which the interim Dean of the Faculty of Engineering, Horst-Günter Rubahn, has entered with Northwestern Polytechnical University (NPU) in Xi'an, China.
The agreement commits NPU and SDU to exchange two bachelor students annually from 2015 and to offer a joint PhD-position between the two universities.
The Mads Clausen Institute in Sønderborg has close relations to NPU, both on the basis of historical master student Exchange and complementary research and development activities, especially within micro technologies.
"The new agreement will strengthen SDU's position as a university of international calibre, provide a qualified host place for outgoing undergraduate students as well as access to an extensive exchange of knowledge and experience across continents," says Horst-Günter Rubahn. He adds that possibilities for expanding the collaboration are intensively examined.
The agreement was signed in October during a journey, aimed at finding qualified candidates for the mechatronics and innovation & business master educations. They also sought out suitable universities in China for future bilateral student and research exchange.
For more information, contact:
Assistant professor Fei Yu, fei@mci.sdu.dk
Image: Interim Dean of the Faculty of Engineering Prof. Horst-Günter Rubahn (SDU) and Director of International Office, Dean of International College Prof. Huaxing Li (NPU) sign the exchange agreements. Standing (from left): Assist. Prof. Fei Yu (SDU), Deputy Director of International Cooperation Assoc. Prof. Yu Sun (NPU), Vice Dean of Electrical Engineering and Automation School Prof. Xiaohua Wu (NPU) and Vice Dean of Mechanical Engineering School Prof. Yingfeng Zhang (NPU).
Facts: Xi'an is the capital of the Shaanxi province in northwestern China and hosts the famous 'Terracotta warriors'. About 28.000 students attend NPU all in all.