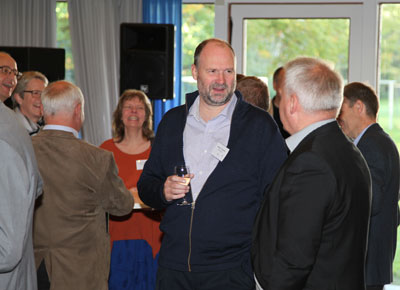 networkING 2014: Festive Reunion with Former Fellow Students
Saturday 27 September was devoted to reunion joy when 180 engineers – all graduates from the Faculty of Engineering – met for a festive day with presentations, music and a lot of talk.
What must an engineer know about people, power and courage? Businesswoman and guest speaker Soulaima Gourani offered her view on this matter as she addressed the many attending engineers who are all members of the alumni networkING at the Faculty of Engineering.
Director of Studies, Henning Andersen welcomed the guests to the networkING event by taking stock of how the faculty's engineering programmes have developed over the past few years and how the future looks. Henning Andersen invited the guests to visit the engineering programmes when they from mid-2015 move to a new state-of-the-art building at Campusvej 55 in Odense.
Afterwards, it was time to greet former fellow students and listen to live music performed by the band Akustiluxe before Soulaima Gourani made the guests laugh at her well-chosen punch lines about engineers.
Experiences from CERN
After lunch, conversation and telling of old stories, Physics and Technology student Christian Buhl went on stage. He told of his experiences at CERN where he currently works. Simultaneously, he gave insight into what it is like to be an engineering student in 2014.
The atmosphere was elated and the day ended with project exhibition, time for networking and refreshments.
See photos from the event and read more about the alumni networkING.