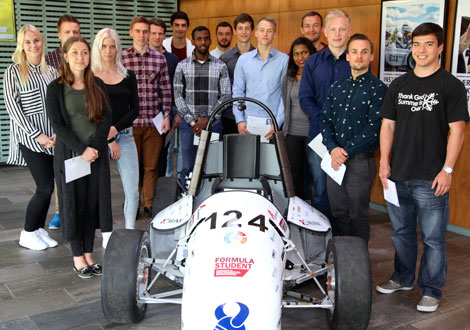 Scholarships for outbound engineering students
On the 6th of May, scholarships from the Engineer Jens Jespersen Foundation and the Engineer Ernst B. Sund Foundation were handed out to students at the Faculty of Engineering.
16 engineering students each had the pleasure of receiving a check of 12.000 DKK, as scholarships were handed out at the Faculty of Engineering. The money is intended for studying abroad in countries such as China, Singapore, Australia, Mexico and Japan.
The students - studying Product Development and Innovation (PDI), Manufacturing Engineering and Management, Integrated Design, Global Management and Manufacturing (GMM) and Civil Engineering - have applied for the scholarships through this page.
On the photo (to the left of the racing car) is seen: Cecilie H. Frausig, Sophie L. Kristensen, Tenna Amalie Andersen, Christian Skovhus, Simon S. Knudsen, Joachim Struve, Mohammed H. Hussein, Mohammed H. Farah, Piotr Daniel Hlad, Nikolaj D. Nielsen, Jacob L. Kristensen, Christian H. Raben, Saranka Thyagarajah, Asger Thomsen, Jeppe B. Vadgaard and Mikku T. Yamashiro.

Read more about the Faculty of Engineering.